CAP
Tim Poole Memorial Award: Peter Juergensen, PA-C
This award was established in honor of Tim Poole, PAC, who passed away in 2008. Tim was an exceptional clinician and incredible human being who dedicated his life to the care and well-being of CKD patients and their families. The Tim Poole Memorial Award will be given to a CAP member who follows in Tim's footsteps and demonstrates the qualities that made him so outstanding.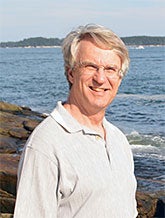 There are few renal professionals who are as accomplished as Peter Juergensen, PA-C. Peter joined the profession in 1975 when it was quite young, graduating from the PA program at Yale University. Although he aspired to become a ski bum, Peter also had a strong affinity for the complicated, hard to manage patient. As it turned out, Yale had an extra renal/endocrine fellowship slot without a fellow; they placed Peter in the fellowship slot, and his work in nephrology began.
Peter joined New Haven Hypertension and Metabolism Associates in 1982, directly following his fellowship. He has trained generations of physician assistants from Quinnipiac University and Yale along with nurses and nurse practitioners from Yale School of Medicine, earning multiple teaching awards from both universities. Peter is a frequent speaker at ASN, NKF, ANNA, AAPA and RPA meetings. He has presented internationally for the International Society for Peritoneal Dialysis (ISPD).
Research is Peter's first love; he has been involved, as Primary Investigator, in study protocols as diverse as iron, the original cinacalcet studies, EVOLVE, and PD studies including psychosexual research and quality of life and the original studies defining adequacy of PD cyclers. Peter was the first NKF-CAP Research Chair on the Executive Committee, where he evaluated and awarded research stipends to deserving APs. He has been responsible for judging research posters for the NKF Spring Clinical Meetings for ten years.
Peter is fluent in English, German and Spanish and has used this ability to run the renal/endocrine clinic for the Hospital of St. Raphael's uninsured patients since 2000. Yet, with all his involvement in his many diverse activities, Peter and his schoolteacher wife have raised two wonderful children and he attends many evening school activities. For a man whose dream was to be a ski bum, he has made a huge difference in the treatment of the kidney patients and in the work of the nephrology advanced practitioner. For this reason, Peter exemplifies the qualities required for this award and clearly distinguishes himself in the field of nephrology through research, education and practice.
Nostradamus Award: Andrew S. Narva, MD, FACP, FASN
A 16th century seer, Nostradamus has long been portrayed as someone who could see into the future. This award will be given annually to an individual or organization that, through forethought and vision, recognizes and promotes the contributions of advanced practitioners in nephrology.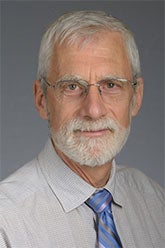 Dr. Narva became the director of the National Kidney Disease Education Program (NKDEP) at the National Institutes of Health (NIH) in September 2006. From 1989 through 2006 he served as the Chief Clinical Consultant for Nephrology for the Indian Health Service (IHS), an agency of the Public Health Service providing healthcare to over one million American Indians and Alaska Natives. He has served as a member of the Medical Review Board of ESRD Network 15 and as Chair of the Minority Outreach Committee of the National Kidney Foundation. He served on the NKF KDOQI Work Group on Diabetes in Chronic Kidney Disease and as a member of the Eighth Joint National Committee (JNC 8) Expert Panel. During 2002, Dr. Narva was recognized by the IHS National Council of Clinical Directors as Physician Leader of the Year and by the U.S. Public Health Service as the Clinical Physician of the Year. In 2003, he received the U.S. Public Health Service (USPHS) Distinguished Service Medal, the highest recognition awarded to commissioned officers. Although Dr. Narva now works at NIH, he continues to serve as the Chief Clinical Consultant for Nephrology for IHS and continues to provide care for patients at Zuni Pueblo through a telemedicine clinic.
CNSW
Robert W. Whitlock Lifetime Achievement Award: Mary Beth Callahan, ACSW, LCSW
This award is named in honor of Robert W. Whitlock, MSSW, MHA, LCSW, Director of the Missouri Kidney Program (MoKP), a leader in the kidney community, who passed away in 2008. Bob was a dedicated nephrology social worker and an outstanding contributor to research, teaching, and clinical practice in nephrology social work.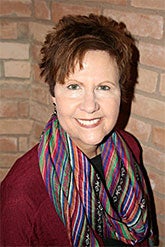 Mary Beth Callahan, ACSW, LCSW, has devoted her phenomenal career to making lives better for people with chronic kidney disease and the teams caring for them. Mary Beth has taken leadership roles in so many projects promoting professional growth for social workers, championing education, support, and advocacy, as well as the role of the nephrology social worker. As soon as Mary Beth joins a group, it becomes obvious that she will be a significant contributor to team building, decision making and developing outcomes.
She has been a part of numerous groups and committees, such as the Society for Social Work Leadership in Healthcare Task Force, Texas Renal Coalition, State of Texas Disparities in CKD Task Force, KDOQI Blood Pressure and Preemptive Transplantation Work Groups, and the National Institutes of Health Consensus Conference: Non-Adherence in the Transplant Patient.
Mary Beth has served in several leadership roles with NKF nationally and within Texas. She was CNSW Chair from 1996-1998, Founder of the North Texas CNSW, and received the NKF of Texas' 2014 Texas Ruby Walker Professional Care Award. Mary Beth was awarded two CNSW research grants, which resulted in work addressing kidney transplant patient employment and vocational training In addition, she is active in the Society for Transplant Social Workers and serves on the ESRD Network #14 Medical Review Board.
Throughout her career, she has kept up with and/or developed evidence based approaches to care, with an emphasis on the importance of the social worker in healthcare. The Outcomes Training Program she developed with her colleagues has been instrumental in educating social workers to practice effectively with patients, families and staff dealing with chronic kidney disease. Mary Beth consistently demonstrates leadership abilities, developing so many special relationships with nephrology social workers who look to her as a mentor.
Merit Award: Jeff Harder, MSW, LICSW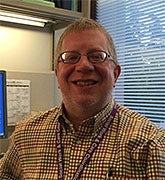 Jeff Harder, MSW, LICSW, has been a transplant social worker for University of Washington Medical Center since 1992. He is the only social worker for the kidney and pancreas program, and trains other transplant social workers. Jeff has been a very active member of the national CNSW and served in several roles including CNSW Chair (2009-2011), Journal of Nephrology Social Work (JNSW) Editorial Board member, and Professional Education Chair. He played a major role in increasing the voice of transplant social workers by facilitating the development of a transplant social work track at the NKF Spring Clinical Meetings. In addition, he is an active member of the National Society of Transplant Social Workers and Society for Social Work Leadership in Health Care (Washington State); holds the CCTSW and NSW-C designations; authors multiple publications; and presents nationally. He is a two-time recipient of the Outstanding Patient Educator Award from University of Washington Medical Center.
Jeff goes beyond the limits of the very definition of service excellence. His work ranges from personal, individualized patient interventions to quality improvement projects; and from personal, individualized social work guidance to widespread social work education programs. He exemplifies quality social work with the goal of improved patient/provider outcomes consistently at the forefront.
Merit Award: Kathleen M. Malarcher, LMSW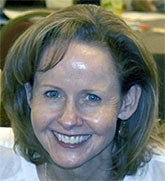 Kathleen (Kati) Malarcher, LMSW, has been a leader in the Dallas nephrology social work community for over 20 years. She has mentored many new nephrology social workers. She works collaboratively in bringing community agencies together on behalf of ESRD patients and is well-respected by staff and patients alike.
Kati has served as Chair, Secretary, and Treasurer of the North Texas-CNSW Chapter, and on its Internal Affairs Committee. She is a past North Texas CNSW New Worker Award winner and national CNSW New Worker Award winner. She worked with the Chapter on several research projects regarding nephrology social work interventions and the effects of caseload size on patient satisfaction, nephrology social work quality indicators, and the Living Longer, Living Better program.
Kati presented to the Texas State Board of Health on behalf of ratios for social workers in the State of Texas during the development of ESRD Licensing for Texas. Her leadership and support were most valuable in establishing social work ratios in Texas. She has also served on Dallas Area Rapid Transport (DART) Paratransit Accessibility Advisory Group (PAAG), advocating for continued legislative financial support of the Texas Kidney Health Care program.
In her facility, Kati has been instrumental in facilitating patient advocacy meetings, coordinating education programs for staff and patients, and helping to organize staff and patient participation in the annual NKF Kidney Walk. She was the driving force behind implementation of an exercise program using stationary peddler units; she educated staff and administration at a local and regional level, and developed an incentive program to encourage participation.
New Worker Award: Joan Emmer, MSW, LSW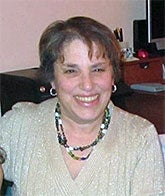 Joan Emmer, MSW, LSW, came to the profession of social work following a long-term career in business and marketing. She pursued social work because she wanted a job that was more fulfilling, something that spoke to her heart. She shows unflagging enthusiasm and willingness to dig in and get the job done, and is well-loved by her patients. You can often find her working late into the night as she as she attends to those on the fourth shift. She is hungry for knowledge, going to outside in-services and reading up on issues that may affect her patients, and shares what she has learned with her colleagues.
Joan has been very active with Quality Insights Renal Network 3 activities, including successfully completing the Patient Engagement project for which her unit was recognized at the annual meeting. Her patients always benefit from her enthusiasm in providing patient education from the ESRD network. During her first few months, Joan recognized a need for a support group for her patients and their families. When she realized another social worker in her immediate area was already running a support group for patients, she began to encourage her patients to join that group. However, still wanting to do more to help, she felt a caregiver support group was needed. She began to have monthly meetings; occasionally, she includes the patients, particularly to help promote family support and understanding of ESRD.
In short, Joan is an exemplary worker. The social work profession has benefitted from her career change and dialysis social work has benefitted from her decision choose it as a specialty. Joan brings a sense of "hope and joy in doing what you love" to her job every day.
New Worker Award: Ashley Norman, MSW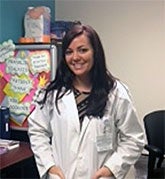 Ashley Norman, MSW, always goes above and beyond what is asked of her and has demonstrated exceptional skills with dialysis patients. Positive feedback from her patients and staff members are reflective of her competence and commitment in providing quality patient care.
Ashley has handled some extremely complex cases in her year at Franklin Dialysis. She is excellent at problem solving, advocating and protecting patient rights. She is an asset to the nephrology social work population and continues to use her skills to make each and every patient at her dialysis unit feel comfortable every day. She is an active member of the Michigan CNSW Chapter and recently took the state licensing exam, which will no doubt assure her expertise and ability to deliver excellence.
She was a 2014 Franklin Dialysis team walk captain for the annual NKF of Michigan Kidney Walk at the Detroit Zoo and raised over $1500 in her first year. Socially, Ashley's participation in the dialysis unit softball team league was instrumental.
Regional Social Work Award – Region 1: Christine Waller, MSW, LICSW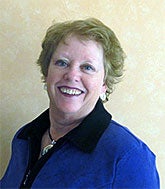 Christine Waller, MSW, LICSW, goes above and beyond her job description and when she sees a need, she will always try to find a way to fulfill it. Until about four years ago, one of the hospitals in her local area would hold a memorial service for all deceased transplant and renal patients. Without the service, Chris recognized that the bereavement needs of families and staff were not being met, and stepped forward. She had experience and expertise as a bereavement facilitator, which guided her in arranging a nondenominational ceremony of remembrance for family and staff, plus caregivers, friends and community members. The responses from the participants tell the story the best: "I finally feel that I can breathe again and can get my life back." "I feel like I can now grieve." "I can't tell you how much this meant to me to have my husband honored and remembered today." "I knew the staff cared for my mother but I didn't realize that you were all so loving and she was part of another family that cared so much for her." "This ceremony was more spiritual than the church service we had for my husband and it touched my soul." "I didn't realize that I would cry so much but I feel good and am so glad that I came." "I was not sure I would come because I was afraid of coming. I didn't know what to expect but wow this was so wonderful, tears and all." Chris will again provide this service in a few weeks for all the families, staff, friends, caregivers and community members; the participants will no doubt again be grateful that she took the time to help them through their journey of grief.
Regional Social Work Award – Region 3: Rebecca Nichols, MSW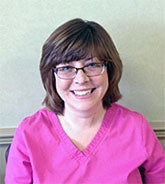 Rebecca (Becky) Nichols, MSW, has been a nephrology social worker since 2002 and is currently employed by ARA Dearborn Kidney Center, providing clinical services to patients receiving hemodialysis, CAPD and home hemodialysis in both in-center and nursing home settings. She is active with the Michigan CNSW Chapter (MCNSW), and chaired its symposiums in 2011 and 2013.
She is truly an asset to patients, MCNSW, and the NKF organization. She is always available to assist, and often assumes a leadership role. In a prior position at FMC, she assisted social workers in the development of a template for the social work quarterly note to meet state requirements. She has always encouraged her patients to participate in local NKF activities, which made her unit one of the top fundraisers for the NKF of Michigan Kidney Walk at the Detroit Zoo.
Becky has served on many committees and as a volunteer for many NKF of Michigan (NKFM) events, including its Kidney Ball and Walk Committee. She was a co-creator of the NKFM Softball Fundraiser in 2012, which is now an annual event providing the Southeast Michigan Renal Community an opportunity to raise money in a fun way. She created the NKFM Trick or Feet! 5k/10k Run, Walk, and Roll in 2013; it raised $10,000 in its first year and $20,000 in its second.
Regional Social Work Award – Region 4: Ashlie Castro, LMSW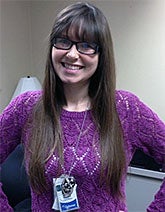 Ashlie Castro, LMSW, is a creative, thoughtful and enthusiastic social worker who always focuses on the needs of the team and others, especially in urgent or priority situations. She is dedicated to the field of social work and transplant, constantly looking for new ways to provide better services and care. She is positive, funny, and solution-focused, which has created a great level of respect among co-workers and non-social work colleagues alike, including doctors and nurses on the team. She is constantly looking for ways to learn more, and to be the best social worker and leader she can be.
Ashlie Castro brought her infectious positivity and incredible energy, not to mention her experience and insight in both dialysis and transplant work, to the task of recreating the Louisiana Chapter of CNSW. She wanted to form the group to advocate for patients and social work caseloads and to network with other nephrology social workers. She felt she needed experience in organizational operations, so she joined the NKF of Louisiana Board of Directors in 2012 when a social work position opened. Her involvement in the Walk Committee and assistance with the organization's social media outlets proved helpful, as she is now currently serving her second term.
With the desire and drive to form a CNSW chapter in New Orleans still burning, Ashlie reached out to her Region 4 CNSW Rep in 2014 asking for information and guidance on where to start. Provided with NKF links and minimal guidance, she took off! In just a short time, the Louisiana Council of Nephrology Social Workers (LCNSW) Southeast Louisiana Chapter was up and running, with 12 members and quarterly meetings offering a 1-hour CEU presentation and a second hour for meeting, networking, and planning. Ashlie's commitment, determination, and ability to take action and implement change foretells a bright future as a member and leader in NKF and CNSW.
CRN
Outstanding Service Award – Denise Dilley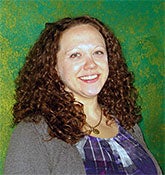 A Marketing graduate of Michigan State University, Denise Dilley has worked at the National Kidney Foundation headquarters office in New York, NY, for seven years. In her role as Professional Council Activities Director, she oversees membership operations and the endeavors of the four Professional Councils of the NKF: Council of Advanced Practitioners (NKF-CAP), Council of Nephrology Nurses & Technicians (NKF-CNNT), Council of Nephrology Social Workers (NKF-CNSW), and the Council on Renal Nutrition (NKF-CRN). Her work as a liaison between the national organization and the CRN, specifically, has proved invaluable.
Denise has consistently gone above and beyond for the CRN, making sure that the Council's goals and the renal dietitian role is consistently represented at all levels of the NKF and with outside agencies. She has promoted the renal dietitian and the CRN in all avenues of her professional career, advocating for CRN inclusion in NKF patient and professional education.
She was an enormous strength during times of transition within NKF, keeping CRN aware of changes, and working behind the scenes to ensure the Executive Committee's work continued to flourish with little to no interruptions. She helped the Council problem solve during this time so that the CRN could continue to be productive without imparting additional costs to the NKF. Denise has been the champion of the Local Chapters as some transitioned from operational independence into alignment with the NKF and its local Division and Affiliate offices. She worked directly with Chapters needing assistance in finding and collaborating with these offices.
Throughout her tenure at NKF, and no matter the challenge, Denise has maintained a smile on her face and a spring in her step. NKF-CRN Chair Lisa Gutekunst says "She has amazed me! The entire Executive Committee was unanimous in honoring Denise with this award. CRN values Denise's work and commitment to us, as well as her friendship."
Susan C. Knapp Excellence in Education Award: Janelle Gonyea, RDN, LD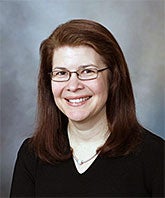 Janelle Gonyea, RDN, LD, has been a renal dietitian at the Mayo Clinic in Rochester, MN, for over 27 years, working with chronic kidney disease patients in all stages of their disease process and all treatment options. In addition to patient care, she chairs two committees in charge of development of patient education materials and programing for the Division of Nephrology and Hypertension and serves on other patient education-related committees in the Division of Endocrinology.
After earning her Bachelor's degree at Michigan State University, she completed her internship at Saint Mary's Hospital in Rochester, MN. Since that time, she has mentored over 200 interns. Additionally, Janelle has provided education for countless colleagues who are new to nephrology, medical students, nephrology fellows, and students enrolled in the Hemodialysis Patient Care Technician program in the School of Health Sciences.
Janelle has authored numerous articles that have appeared in professional newsletters and peer-reviewed publications. She has served as CRN Co-Editor and then Editor of the NKF RenaLink newsletter. She often speaks at regional and national meetings on various topics related to renal nutrition, and serves on the Medical Review Committee for Renal Network 11.
She enjoys planning educational activities and has done so at the local, state and national level, serving on the CRN Planning Committee as a member, Co-Chair and Chair for the NKF Spring Clinical Meetings (SCM). She is currently a member of the SCM CRN Program Planning Committee and is coordinating the 2015 Strategies l: Foundations of Nutrition Practice for Kidney Disease preconference workshop.
Recognized Regional Renal Dietitian – Region 1: Sharon Stall, MPH, RD, CSR, CDN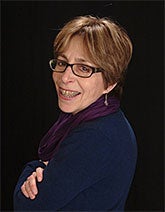 Sharon Stall, MPH, RD, CSR, CDN has a passion for chronic kidney disease education that can make an impact by stopping or delaying the progress of kidney failure. As Professional Education Director for the National Kidney Foundation Serving Upstate NY, she was able to deliver that message to primary care providers and throughout the Rochester, NY, community using all avenues of communication.
As a renal dietitian, she has done research in body composition of dialysis patients, written grants and articles, presented at national meetings, and served as a member of the NY State Chronic Kidney Disease Task Force. She has taught dietetic interns, nutrition students and medical students about the diet for kidney disease. Sharon is involved with the Journal of Renal Nutrition both as an Editorial Board member and as the Product Update editor. She says, "I have met colleagues, dialysis health care professionals that have amazed me with their expertise, and encouraged and supported me throughout my career. The RenalRD Listserv now speaks to the value of being in a community and sharing information; however nothing beats people contact."
Sharon feels the greatest gift of being a renal dietitian for over 30 years is working with patients; the unique interaction of being involved with people on dialysis has not waned. She states, "I had the gift of being introduced to Kathe LeBeau, a dialysis patient advocate. She and I worked together on education programs, she got me to Albany for a legislative day, and she spoke at our meetings here in Upstate New York. We developed a friendship. She impacted many lives including mine. Kathe passed on March 17, 2014. I dedicate this special recognition to her, and have promised to continue her lead, in the advocacy for the person with chronic kidney disease and the importance of chronic kidney disease education."
Recognized Regional Renal Dietitian – Region 3: AnnaMarie Rodriguez, RD, LD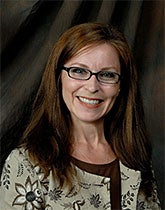 AnnaMarie Rodriguez, RD, LD, works as a Renal Clinical Consultant, where she is responsible for delivering clinical services and support across a region spanning 12 states. He multiple roles in the nephrology/pharma industry have included launching and promoting a specialty product necessary in the management of hyperphosphatemia; educating, training, and providing clinical support for IDPN/IPN, aggressive nutrition support intervention aimed at stabilizing the nutritional status of hemodialysis and peritoneal dialysis patients; and delivering clinical support in the management of anemia and CKD MBD with novel injectable and oral drugs for patients with CKD and ESRD.
Although she currently resides in Wisconsin, AnnaMarie was very active with the NKF of South and Central Texas during her time there. She served on the Medical Advisory Board, received the Above and Beyond award, and chaired the CRN of San Antonio. While in Texas, she was a Practice Task Force member for Texas Dietitians and a Nutrition Subcommittee Member of the ESRD Network 14 Medical Advisory Board. AnnaMarie has been active in Wisconsin as part of the Planning Committee for the NKF annual symposium since 2012 and currently leads the CRN of Wisconsin as Chairperson.
Recognized Regional Renal Dietitian – Region 5: Leah Beaird, MS, RD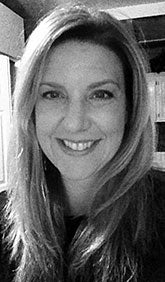 A graduate of Arizona State University (MS, Human Nutrition), Leah Beaird, MS, RD, is an accomplished educator with an emphasis in diabetes and chronic kidney disease, and a complimentary background in dietetics, sales, and physical education. She has been a member of NKF-CRN and the Academy of Nutrition And Dietetics Renal Practice Group since 2005, and has Co-Chaired the Arizona CRN Chapter since 2014.
She is an expert in CKD-MBD management and works as a Renal Clinical Consultant, teaching disease state, physiology, pathophysiology, medication dosing, patient adherence, motivational interviewing, and other aspects of CKD-MBD. Leah has received the "Outstanding Leader Award" for renal science expert from Abbott and "Field Team Innovator" from Sanofi for creating a program incorporating both diabetes and renal business units to meet customers' unmet educational needs.
At Southwest Kidney Institute, Leah worked on program design, developed methods for patient retention, and authored education materials for a CKD non-dialysis nutrition education program. She also served as lead dietitian preceptor for dietetic interns, in addition to her duties providing health and wellness counseling to CKD and hemodialysis patients incorporating diet, exercise, stress management, smoking cessation, and healthy behavioral change modification using adult learning techniques in both individual and group settings.