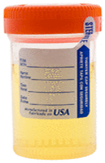 Sometimes what you can't see can kill you. Kidney disease is significantly underdiagnosed and excessive protein in the urine (albuminuria) is one of the earliest signs of kidney damage. Usually invisible to the human eye, often this red flag for kidney disease is undetected because not enough people who are at risk are receiving urine testing.
Take the National Kidney Foundation's Quick Kidney Risk Check to find out if you're at risk for kidney disease--and what steps you can take to reduce your risk.
This quiz was based on a study by Paul Muntner, PhD and was originally published in the American Journal of Kidney Diseases, the official journal of the National Kidney Foundation.