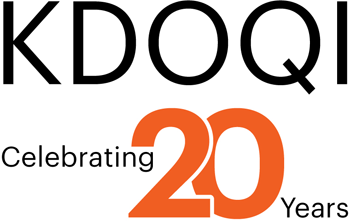 #KDOQIturns20
---
The National Kidney Foundation produces clinical practice guidelines through the NKF Kidney Disease Outcomes Quality Initiative (NKF KDOQI)™. This program has provided evidence-based guidelines for all stages of chronic kidney disease (CKD) and related complications since 1997. Recognized throughout the world for improving the diagnosis and treatment of kidney disease, the KDOQI guidelines have changed the practices of numerous specialties and disciplines and improved the lives of thousands of kidney patients. All KDOQI Guidelines and Commentaries are published in the American Journal of Kidney Diseases (AJKD), NKF's premier journal.
In addition to guideline development, KDOQI aims to improve clinical practice through collaboration with wider policy and education programs designed to support implementation of guideline recommendations.
For further information or to get involved, please email: kdoqi@kidney.org.