Hoops for Hope Basketball Fundraiser
Rochester, New York - March 28, 2019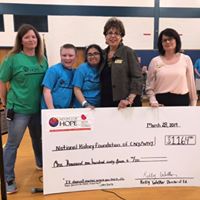 Villa of Hope's Physical Education Department hosted their annual Hoops for Hope Basketball Fundraiser in support of the National Kidney Foundation. Enthusiastic students from Villa of Hope participated in a fun game of pick-up basketball with a group of police officers from the Greece Police Department.
Villa of Hope students and staff raised over $1,000 in support of NKF programs and services. Thank you!
Team Kidney is the National Kidney Foundation's DIY platform, allowing fundraisers to tailor campaigns to best reflect their skills, their community, or a loved one that they are honoring. Throughout the years, we have seen some incredible individuals organize inspiring events.