The 2015 elections for the Council of Advanced Practitioners (CAP), the Council of Nephrology Nurses & Technicians (CNNT), the Council of Nephrology Social Workers (CNSW) and the Council on Renal Nutrition (CRN) are complete.
Elected members of CAP, CNSW and CNNT will take office at the 2016 National Kidney Foundation's Spring Clinical Meetings (SCM16) April 27-May 1, 2016, at Hynes Convention Center in Boston, MA. Those elected to CRN positions will take office 45 days prior to SCM16.
Council of Advanced Practitioners
Elected Positions:
Chair-Elect: Della Connor, PhD, RN, FNP-BC
Della would like to see the Speakers Bureau doing more NKF sponsored events with the general population/practitioners in their area. She believes CAP needs to start local where members are, and progress to larger areas. She views recruitment of practitioners as priority.
Leah is willing to speak, mentor, and educate APs on how to take leadership in their own practices & inside their professional organizations. When she began her leadership position in 2007, there were no mentors, templates, or guidelines on how to lead APs. She has built those things from the ground up and wants to advance this in the field.
Council of Nephrology Nurses & Technicians
Elected Positions:
Chair-Elect: Kim Deaver, RN
Kim wants to carry forward the goals and trends for education through online services for nurses and technicians that have been set by CNNT. Educational opportunities for nurses and technicians help support care and education to kidney disease patients both acute and chronic.
Forest would like to encourage more technicians to join NKF and support CNNT. This is the premier organization representing nurses and technicians, and he will strive to work diligently to continue working and participating in all organizations that help CKD patients.
Kelly is relatively new to the world of nephrology, but she is finding it incredibly enjoyable. She would like to be more involved in NKF activities as a means to improve education for staff, as well as patients. Using her psychiatry, research, and nursing background, she thinks she could be quite helpful in bringing forward topics of needed improvement and attention in the world of nephrology. Kelly would love any opportunity to be more involved in advancing nephrology and advocating for the needs of these unique and chronically ill patients.
As Region IV Representative, Nicole plans to strengthen the goals of NKF by attempting to increase membership and participation within the region. She would like to be an active resource for NKF on educational or service projects CNNT or NKF is promoting, and contribute to the RenaLink activities that are occurring within the region.
Council of Nephrology Social Workers
Elected Positions:
Membership Chair: Melissa Fry, CAPSW, NSW-C
Melissa will promote national and local membership, with a goal to increase CNSW membership. She continues to support CNSW's advocacy efforts to ensure social workers have the tools they need to successfully support their patients and families. She encourages CNSW's educational opportunities to ensure social workers have the training they need to effectively perform their job duties.
Jennifer's goals will be to facilitate communication between the CNSW national board and region III chapters and members. She will encourage chapter development and promote CNSW membership. She plans to contribute to special projects that the national board is working on. In addition, she will support and promote the profession of nephrology social work, as well as represent chapter members and give them a voice.
Tom is excited for the profession. With KDQOL in 2008, depression screening in 2016, symptom targeted intervention, CHAPS, patient experience and grievances added to the Quality Incentive Program, it puts social workers at the forefront of CMS's mandate for patient-centered care. Tom wants to continue to advance social work's professional status and skills with the goal of providing optimum patient-centered care, and maximizing the quality of life for our patients.
Council on Renal Nutrition
Elected Positions:
Chair-Elect: Letty Moreno, MS, RD, LD
Letty feels it will be a privilege to serve as an advocate to patients and renal professionals, and will continue to help promote professional and patient education. She will stay active on legislation issues which may impact CKD patients and also impact the role of the renal dietitian.
Maria strongly believes that early intervention and patient education is an extremely important issue, and feels that patients should have easy access to educational materials and consistent messages from their dietitians.
As Alternate Representative, Sharon will support and assist the Region 1 Representative with the regional tasks and act as liaison with the local CRN chapters to communicate member interests and concerns and relay information from CRN. She will encourage CRN participation to increase membership in the organization.
Kristen would like to continue to serve the CRN membership. One of her goals is to re-establish chapters in states where the local CRN has closed. She would do this by reaching out to the membership and gaining feedback. Kristen would also like to see each chapter establish websites and have links on NKF's website.
As CRN Region III Alternate Region Representative again, Cindy plans to continue being a support person, offering open communication for CRN local chairs and their members.
The support of CRN members has helped mold Leah into the renal dietitian she is today. For this reason, Leah is a strong advocate of CRN and her goal is to help existing CRN chapters network to share best demonstrated practices, and start new chapters in areas where CRN does not exist.
Fay will use her years of experience to help move important issues forward and encourage others to become active members of the CRN group so their ideas can be heard.
---
Guide to the Regions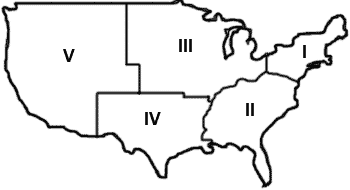 Region Lists:
Region I includes: Connecticut, Delaware, Maine, Maryland, Massachusetts, New Hampshire, New Jersey, New York, Pennsylvania, Rhode Island, Vermont, Africa, Canada (New Brunswick, Newfoundland, Nova Scotia, Ontario, Prince Edward Is, Quebec)
Region II includes: Alabama, District of Columbia, Florida, Georgia, Kentucky, Mississippi, North Carolina, South Carolina, Tennessee, Virginia, West Virginia, Bahamas, Caribbean, Europe, Puerto Rico
Region III includes: Illinois, Indiana, Iowa, Kansas, Michigan, Minnesota, Missouri, Nebraska, North Dakota, Ohio, South Dakota, Wisconsin, Canada (Manitoba, Saskatchewan)
Region IV includes: Arkansas, Louisiana, New Mexico, Oklahoma, Texas, Mexico, Central America, South America
Region V includes: Alaska, Arizona, California, Colorado, Hawaii, Idaho, Montana, Nevada, Oregon, Utah, Washington, Wyoming, Asia, Australia, Canada (Alberta, British Columbia, Yukon Territory), Middle East