The 2015 elections for the Council of Advanced Practitioners (CAP), the Council of Nephrology Nurses & Technicians (CNNT), the Council of Nephrology Social Workers (CNSW) and the Council on Renal Nutrition (CRN) are complete.
Elected members of CAP, CNSW and CNNT will take office at the 2016 National Kidney Foundation's Spring Clinical Meetings (SCM16) April 27-May 1, 2016, at Hynes Convention Center in Boston, MA. Those elected to CRN positions will take office 45 days prior to SCM16.
Council of Advanced Practitioners
Elected Positions:
Chair-Elect
Della Connor, PhD, RN, FNP-BC
East Texas Nephrology Associates
Lufkin, Texas
Della has worked as a family nurse practitioner with dialysis patients for almost ten years. She feels challenged by them, wanting to do the best for them. Prior to serving as the Chair-Elect of CAP, she was in the position of Membership Chair. She has also served on advisory boards and standards committees.
During her term, Della would like to see the Speakers Bureau doing more NKF sponsored events with the general population/practitioners in their area. She believes CAP needs to start where members are on the local level, and progress to larger areas. She views recruitment of practitioners as priority for 2016.
Secretary
Leah Smith, MSN, FNP-BC
Metrolina Nephrology Associates
Charlotte, North Carolina
Not only is Leah the Director of Advanced Practitioners in a large nephrology practice, she is the founder and chair of an eight week training program for new APs to nephrology practice, with ongoing leadership of the program. She has also held multiple positions in her local ANNA chapter, worked on several planning committees including the ANNA State Conference and the NCNA Symposium, and spoken at multiple national events.
Leah is willing to speak, mentor, and educate APs on how to take leadership in their own practices, and inside their professional organizations. When she began her leadership position in 2007, there were no mentors, templates, or guidelines on how to lead APs. She wants to see those supports more widely instituted.
Council of Nephrology Nurses & Technicians
Elected Positions:
Chair-Elect
Kim Deaver, RN
University of Virginia Health System
Swoope, Virginia
Kim is the Dialysis Program Manager for the University of Virginia Health System. She has worked in nephrology nursing for 26 years in many areas including peritoneal dialysis, the acute dialysis setting, CKD clinics, and chronic out-patient and home hemodialysis along with vascular access management. Kim's other national commitments include being a commissioner on the Nephrology Nursing Certification Commission (NNCC), and chair of the NNCC Clinical/Technical Exam Board.
Kim wants to carry forward the goals and trends for education through online services for nurses and technicians that have been set by CNNT. Educational opportunities for nurses and technicians help support care and education to kidney disease patients both acute and chronic.
Region II Representative
Forest Rawls, CDT
Emory Dialysis Clinics Atlanta
Jonesboro, Georgia
Forest has over 10 years of experience as the Vascular Access Coordinator at the Emory Dialysis Clinics Atlanta. He is the Past President of NANT, and has served on the Southeast Kidney Council Board of Directors for eight years.
Forest would like to encourage more technicians to join NKF and support CNNT. He regards NKF as the premier organization representing nurses and technicians. He will strive to work diligently to continue working and participating in all organizations that help CKD patients.
Region III Representative
Kelly Drilling, RN, MSN
Outpatient Dialysis of Mayo Rochester
Elma, Iowa
Kelly is relatively new to the world of nephrology, but she is finding it incredibly enjoyable. She has been the Nurse Supervisor of Outpatient Dialysis for the Mayo Clinic since 2014.
She would like to be more involved in NKF activities as a means to improve education for staff, as well as patients. Using her psychiatry, research, and nursing background, she thinks she could be helpful in bringing forward topics of needed improvement and attention in the world of nephrology. Kelly would love any opportunity to be more involved in advancing nephrology and advocating for the needs of these unique and chronically ill patients.
Region IV Representative
Nicole Bates, RN
Renal Core Consulting LLC
Pine Bluff, Arkansas
Nicole has been the Nurse Consultant for Renal Core Consulting LLC since 2013. She is also the President of the Arkansas Chapter of ANNA.
As the Region IV Representative, Nicole plans to strengthen the goals of NKF by attempting to increase membership and participation within the region. She would like to be an active resource for NKF on educational or service projects CNNT or NKF is promoting, and contribute to the RenaLink activities that are occurring within the region.
Council of Nephrology Social Workers
Elected Positions:
Membership Chair
Melissa Fry, CAPSW, NSW-C
Mile Bluff Medical Center
Mauston, Wisconsin
Melissa has been with the Mile Bluff Medical Center for 17 years, and has been their Director of Social Services for the last five. In addition to her CNSW membership, she is a charter member of the North American Validation Association, as well as a member of the National Association for Social Workers. Melissa is a 2014 CNSW Merit Award winner, and a past member of the National Kidney Foundation Spring Clinical Meetings Program Committee.
Melissa will focus on promoting national and local membership, with a goal to increase CNSW membership. She continues to support CNSW's advocacy efforts to ensure social workers have the tools they need to successfully support their patients and families. She encourages CNSW's educational opportunities to ensure social workers have the training they need to effectively perform their job duties.
Region III Representative
Jennifer Miller, LICSW, NSW-C
DaVita Dialysis
Coon Rapids, Minnesota
For 10 years, Jennifer has been a renal social worker at DaVita Dialysis. She has been a member of CNSW since 2006, and is a 2012 Merit Award winner. She has been actively involved in her local chapter of CNSW, serving in several roles including Membership Chair, Secretary, and Chair.
Jennifer's goals will be to facilitate communication between the CNSW national board and region III chapters and members. She will encourage chapter development and promote CNSW membership. She plans to contribute to special projects that the national board is working on. In addition, she will support and promote the profession of nephrology social work, as well as represent chapter members and give them a voice.
Region I/V Representative
Tom Lepetich, LCSW
DaVita - Memphis Street Renal Center
Spring Lake, New Jersey
Tom has been a dialysis social worker with Davita for 29 years, and a member of CNSW since 1986. He is also actively involved in his local CNSW chapter, serving as the Chair since 2009.
Tom is excited for the profession. With KDQOL in 2008, depression screening in 2016, symptom targeted intervention, CHAPS, patient experience and grievances added to the Quality Incentive Program, social workers are at the forefront of CMS's mandate for patient-centered care. Tom wants to continue to advance social work's professional status and skills with the goal of providing optimum patient-centered care, and maximizing the quality of life for our patients.
Council on Renal Nutrition
Elected Positions:
Region I Representative
Meredith Marinaro, MS, RD
University of Connecticut Dialysis Center DCI
Farmington, Connecticut
Meredith has been a renal dietitian at UConn Dialysis Center DCI, Farmington, CT for the last 10 years, and has been actively involved in her local CRN for five years. Through this, she has gained experience in organizing meetings, working with local and national NKF offices, and collaborating with other planning committee members. She is also an adjunct professor at the graduate school at the University of New Haven where she has gained experience mentoring and evaluating students. She is currently in the process of coordinating with NKF to provide an education opportunity for CRN members sponsored by the New England CRN group in an effort to improve CRN participation.
She strongly believes that early intervention and patient education is an extremely important issue, and feels that patients should have easy access to educational materials and consistent messages from their dietitians.
Region I Alternate Representative
Sharon Zalemski, MS, RD, CDN
Comprehensive Dialysis Center of Western New York
Buffalo, New York
Sharon has been the Director of Nutritional Services at Comprehensive Dialysis Center of WNY for the past 21 years. She manages the nutritional care for a caseload of approximately 170 hemodialysis, peritoneal dialysis and home hemodialysis patients. She is currently the CRN Region 1 Representative, and has been the 2010-2013 Chair for the Western New York CRN. She was Co-chair for an Annual Joint Meeting of the Upstate and Western New York CRNs, New York State Dietetic Association Secretary/ Historian (2001-2003) and has held offices of President, Council on Practice Chair, Secretary and Newsletter Editor (1992) for the Western New York Dietetic Association.
Sharon plans to support and assist the Region 1 Representative with the regional tasks and act as liaison with the local CRN chapters to communicate member interests and concerns and relay information from CRN. She will encourage CRN participation to increase membership in the organization.
Region III Representative
Kristen Nonahal, RD
Henry Ford Hospital
West Bloomfield, Michigan
Kristen has been a dietitian and preceptor for dietetic interns in the CKD Clinic in the Department of Nephrology/Hypertension at Henry Ford Hospital in Detroit, MI for the past four years. She has held positions as the Michigan Council on Renal Nutrition (Chair-Elect 2010, and Chair 2011-2013). She also has served the National Council on Renal Nutrition as their Region III Representative from 2013 to present.
She would like to continue to serve the CRN membership and one of her goals is to re-establish chapters in states where the local CRN has closed. She would do this by reaching out to the membership and gaining feedback. Kristen would also like to see each chapter establish websites and have links on our NKF website.
Region III Alternate Representative
Cynthia Clancy, MS, RD, LD
Fresenius Medical Care
Saint Ann, Missouri
Cindy is a renal dietitian who works with in-center hemodialysis patients and home patients. She works for Fresenius Medical Care, and has been employed as a renal dietitian since 1999. She has been Secretary, Co-Chair, and Chair of her local CRN chapter, as well as CRN Region III Representative and Region III Alternate Representative.
As CRN Region III Alternate Region Representative again, Cindy would like to continue being a support person, offering open communication for the CRN local chairs and their members.
Region V Representative
Leah Beaird, MS, RD
Sanofi
Gilbert, Arizona
Leah is a renal dietitian and a Renal Clinical Consultant for Sanofi. She has also been Co-Chair of her local CRN Chapter.
As a new dietitian and new to the field of renal nutrition, she had an enormous learning curve that at times felt insurmountable. Through the encouragement of the dietitians and education provided through CRN, she began to learn nephrology. Ten years later, she has become Co-chair of her local CRN chapter. The support of CRN members has helped to mold her into the renal dietitian she is today. For this reason, Leah is a strong advocate of CRN and her goal is to help existing CRN chapters network to share best demonstrated practices, and start new chapters in areas where CRN does not exist.
Region V Alternate Representative
Fay Moore, RD, CSR
Fresenius Medical Care
Sun City, Arizona
Fay is currently a Lead Dietitian for the Fresenius Medical Care Arizona Region, having been employed in this position since 1988. She provides leadership for 45 dietitians in the region. Fay was the treasurer of the Illinois CRN in 2002, and the dietitian member of the Network 15 Medical Review Board.
Fay plans to use her years of experience to help move important issues forward, and encourage others to become active members of the CRN group so their ideas can be heard.
---
Guide to the Regions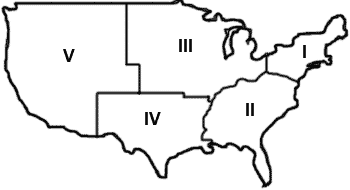 Region Lists:
Region I includes: Connecticut, Delaware, Maine, Maryland, Massachusetts, New Hampshire, New Jersey, New York, Pennsylvania, Rhode Island, Vermont, Africa, Canada (New Brunswick, Newfoundland, Nova Scotia, Ontario, Prince Edward Is, Quebec)
Region II includes: Alabama, District of Columbia, Florida, Georgia, Kentucky, Mississippi, North Carolina, South Carolina, Tennessee, Virginia, West Virginia, Bahamas, Caribbean, Europe, Puerto Rico
Region III includes: Illinois, Indiana, Iowa, Kansas, Michigan, Minnesota, Missouri, Nebraska, North Dakota, Ohio, South Dakota, Wisconsin, Canada (Manitoba, Saskatchewan)
Region IV includes: Arkansas, Louisiana, New Mexico, Oklahoma, Texas, Mexico, Central America, South America
Region V includes: Alaska, Arizona, California, Colorado, Hawaii, Idaho, Montana, Nevada, Oregon, Utah, Washington, Wyoming, Asia, Australia, Canada (Alberta, British Columbia, Yukon Territory), Middle East