Mission Statement
The Council on Renal Nutrition (CRN) functions as a professional council within the framework of the National Kidney Foundation (NKF) and networks with other organizations to support the National Kidney Foundation's goal of making lives better for those with chronic kidney disease through education, outreach and research in the field of nutrition as it pertains to prevention, eradication and treatment of kidney and urologic diseases.
Executive Committee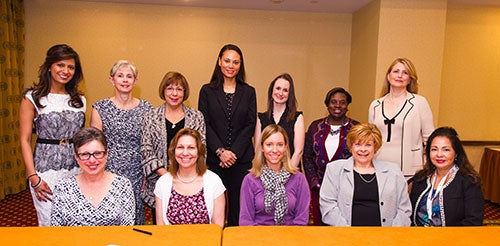 The CRN Executive Committee is composed of fourteen members:
Chair
Associate Chair
Immediate Past Chair
Membership Chair
Publications Chair and Co-Chair
Clinical Nephrology Program Chair and Co-Chair
Professional Education Chair
Regional Representatives of the five National Kidney Foundation Regions.
The NKF-CRN Executive Committee, as listed below, meets several times a year. Its members are eager to help you with any questions regarding NKF-CRN and professional issues related to the practice of renal nutrition. Executive Committee meetings are held during the NKF Clinical Nephrology Meeting in the spring and one additional time in the year. The additional meeting is coordinated with the NKF Board. CRN also has Alternate Region Representatives, who can provide you with additional assistance.
The CRN National Membership elects most of the members of the Executive Committee. Committee members also serve on various ad hoc committees to develop special projects and position papers to further the goals, priorities, and interests of CRN.
The Executive Committee members are listed below. Please feel free to contact your Region Representative or any other Executive Committee member at any time to provide us with your ideas, to volunteer for a special project, or whenever you need additional information. There are five CRN regions. Determine your region representative.
The effectiveness of the Executive Committee is directly related to knowing and responding to the needs of Local Chapters and Members.
CHAIR:
Judy R. Kirk, MS, RD, CDN, CSR
(585) 794-0226
judy.kirk@rochesterregional.org
Chair-Elect
Laura J. Holden, MBA, RD, CSR
(602) 304-1977
lholden@dsi-corp.com
Immediate Past Chair
(Acting)
Jean Stover, RD, LDN
(610) 306-4317
jbstover1@verizon.net
Secretary
Vacant
SCM Program Chair
Beth Shanaman, RD


(206) 720-3988


beth.shanaman@nwkidney.org
SCM Program Co-Chair
Beth Morlang, RD, LDN
bee621@hotmail.com
Meredith Marinaro, MS, RD, CSR
Region I Representative/
Patient & Public Education Chair


(860) 678-1459




meredith.marinaro@dciinc.org

Sharon A. Zalemski, MS, RD, CDN
Region I Alternate Representative


(716) 631-4700


szalemski@roadrunner.com
Christine Benedetti, MS, RD, CSR, LD
Region II Representative/
Awards Chair
(706) 338-2282
cns211@gmail.com
Gwendolyn Harris, RD, LD
Region II Alternate Representative
(440) 832-2202
gwendoly.h@att.net
Kristen Nonahal, RD
Region III Representative/
CyberNephrology Chair/
Acting Publications Chair


(313) 916-2705


knonaha1@hfhs.org
Cynthia K. Clancy, MS, RD, LD
Region III Alternate Representative
(314) 762-0089
cynthia.clancy@fmc-na.com
Aida Moreno Brown, MS, RD, LD
Region IV Representative/
Membership Chair
(915) 637-5060
lettymoreno@sbcglobal.net
Meredith Larsen, MS, RDN, LD
Region IV Alternate Representative
(214) 669-4912
mer.larsen@yahoo.com
Leah Beaird, MS, RD
Region V Representative/
Research, Public Relations Chair


(602) 741-9310




Leah.Beaird@sanofi.com

Fay Moore, RD, CSR
Region V Alternate Representative


(623) 293-1927




fay.moore@fmc-na.com

NATIONAL STAFF:

Kiley Thornton, MPA




Professional Membership Director




(800) 622-9010 x174


kiley.thornton@kidney.org