NKF Deeply Disturbed by Court Ruling on Dialysis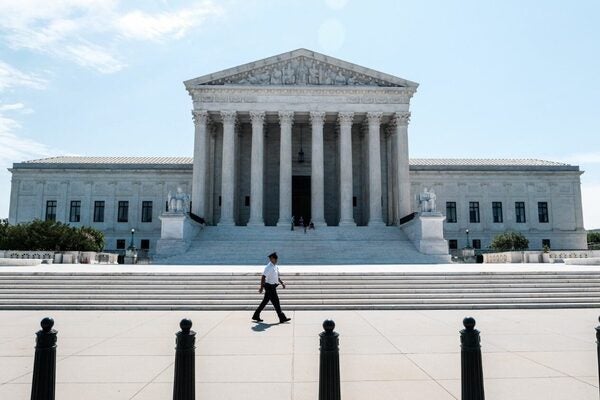 Statement from the National Kidney Foundation on Supreme Court Decision in Marietta Memorial Hospital v. DaVita
New York, NY (June 29, 2022) – The following is a statement from Kevin Longino, Chief Executive Officer of the National Kidney Foundation and a kidney transplant recipient, on the Supreme Court Decision in Marietta Memorial Hospital v. DaVita.
"The National Kidney Foundation (NKF) is deeply disturbed by the recent Supreme Court ruling on Marietta Memorial Hospital v. DaVita, which functionally exempts employer sponsored health plans from covering maintenance dialysis for individuals with kidney failure.
Individuals with kidney failure need access to adequate, affordable insurance coverage that meets their medical needs. Unfortunately, the Supreme Court's ruling makes it easier for plans to provide insufficient coverage for kidney failure and in doing so, puts patients in the middle of a longstanding feud over the price of dialysis and its availability.
For patients, the impact of the court ruling cannot be understated. Some individuals with kidney failure will have to pay for both Medicare benefits (which cover their dialysis needs) AND their employer sponsored benefits (which may cover supplemental services such as vision and dental). Other patients may have to transition to Medicare completely and potentially lose supplemental benefits. Others still might choose to leave the workforce rather than have their wages subsidize benefits that are not fully valuable to them. In each of these scenarios, patients lose their agency to select the health plan that maximizes affordability and access, as well as the ability to fully engage in meaningful work. This is untenable.
NKF is committed to working with the kidney care community to ensure that health plans are required to cover medically necessary maintenance dialysis services. We support a range of legislative and policy changes that will create more choices for individuals with kidney failure and improve affordability, including Medigap expansion legislation, policy changes to drive competition and innovation in kidney care, and other important protections that preserve patient choice. Especially in the face of the High Court's ruling, we will accelerate our advocacy to ensure that patients have access to high quality, affordable treatment options for their kidney failure."
About National Kidney Foundation
The National Kidney Foundation (NKF) is the largest, most comprehensive, and longstanding patient-centric organization dedicated to the awareness, prevention, and treatment of kidney disease in the U.S. For more information about NKF, visit www.kidney.org