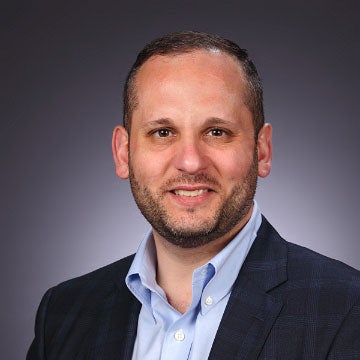 Sam Marchio
Regional Vice President, Federal Affairs, Head of Congressional Affairs
Anthem, Inc
Washington, DC
Samuel J. Marchio is Regional Vice President of Federal Affairs for Anthem, Inc. Mr. Marchio serves as the Head of Congressional Affairs, managing, representing and advocating the company's positions on matters before the U.S. Congress (House and Senate), and all Washington-based organizations and coalitions. Mr. Marchio also provides strategic legislative and political support to the company, and manages Anthem's political contributions to federal elected officials and candidates. Mr. Marchio joined Anthem in January 2011 with 10-years of bipartisan legislative, communications, political, and management experience as a senior congressional aide and veteran of five congressional campaigns.
Prior to joining Anthem, Mr. Marchio served as Chief of Staff for U.S. Congressman Michael A. Arcuri (D- NY). In this capacity, Mr. Marchio served as the Congressman's chief legislative, communications, and political advisor. Mr. Marchio was responsible for managing 22 staff members in the Congressman's official office; supervising legislative, communications, and constituent outreach strategy; and overseeing a $1.5 million annual budget. During his tenure as Chief of Staff, Mr. Marchio achieved a 10% savings in the Congressman's official office budget in both 2009 and 2010, which was returned to the U.S. Treasury for deficit reduction.
Mr. Marchio also oversaw Congressman Arcuri's work on the influential House Rules Committee, which is responsible for interpreting and implementing the rules of legislative debate and decorum in the U.S. House of Representatives. In that role he developed and executed strategy for the successful passage of 12 amendments to legislation debated by the House of Representatives.
Earlier in his career, Mr. Marchio spent five years working for U.S. Congressman Sherwood L. "Sherry" Boehlert (R-NY), Chairman of the House Science Committee, in a variety of increasingly responsible roles, including Communications Director and Senior Legislative Assistant. In this capacity, he served as Congressman Boehlert's chief spokesman with local and national media outlets, led all non-science legislative work, and managed outreach, field operations and fundraising for two successful re-election campaigns. Mr. Marchio joined Congressman Boehlert's office in 2001 while in college and served until December 2006 when Boehlert retired after 24 years of service in the U.S. House of Representatives. Mr. Marchio served as Chairman of the Board of Directors for the Medicaid Health Plans of America's Political Action Committee from 2013 through 2016 where he was responsible for determining federal campaign contributions and assisting with the organization's political fundraising efforts.
Mr. Marchio earned a Bachelor of Arts degree in Political Science with studies focused on Public Administration and Political Philosophy from Utica College of Syracuse University in 2001. He resides in Washington, DC with his wife Shana (Stribling) Marchio and their 21-month old son, Sammy.