Camp Reynal was started in 1992 by dedicated volunteers, parents and healthcare professionals, all of whom shared the common goal to create an exciting, challenging, encouraging, supportive, safe and healthy environment for children with renal and urology disease, and to foster fun, growth, exploration, discovery, friendship, self-esteem and independence. Through support from corporate, individual, and foundation donors, Camp Reynal has provided an important and successful camping experience to over 1,200 children since 1992. Camp Reynal is one of the few camps in the United States that provides on-site dialysis.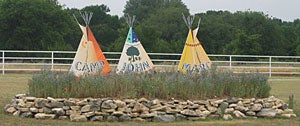 Activities at camp include:
Ropes Challenge Course
Horseback Riding
Swimming
Sports and games
Canoeing
Fishing
Archery
Nature discovery Programs
Cooking
Photography
Camp-outs
Water Balloon Wars
Lots of fun, laughter, adventure, challenges, personal growth and friendship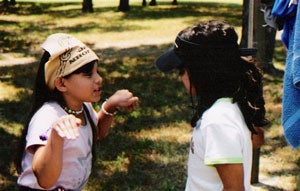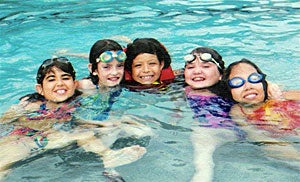 For more information please e-mail us or call (214) 351-2393.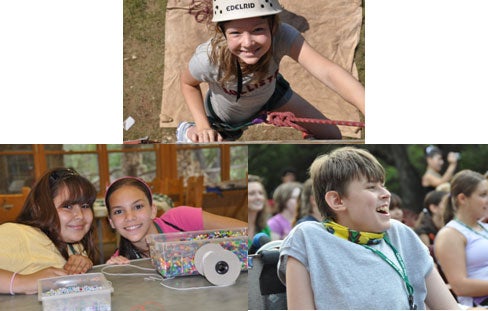 One parent shared the following input about her son after he attended the 2009 Camp Reynal:
He came home from camp happy and in great spirits. Since camp, he has taken a greater interest in his grooming habits and on being more accepting of himself, his limitations, and his condition. He reads food labels to monitor his sodium intake without being prompted, and makes more of an effort to consume water over sugary drinks with caffeine.
Counselor Opportunities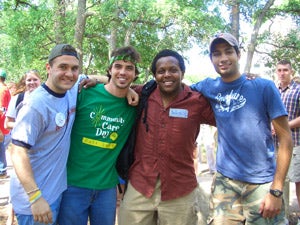 Approximately 50-60 individuals volunteer to serve as camp counselors in addition to the 20-30 Healthcare Professionals who provide 24 hour medical care. Volunteer counselors receive 2 days of extensive on and off site training that includes information about kidney disease and its effect on children, information about camp procedures, regulations and safety training. If you can commit to having one of the best experiences of your life, click here to download a counselor application. A background check will be submitted on all applicants. For more information on becoming a counselor, contact the National Kidney Foundation at (214) 351-2393 or e-mail us.
Financial Support
Due to the fact that no child pays to attend Camp Reynal, we rely on donations from individuals, corporations and foundations. If you would like to support Camp Reynal with a gift, please contact the National Kidney Foundation at (214) 351-2393 or e-mail us.