Kidney Disease Friendly Cooking
Kidney Disease Friendly Cooking
By Duane Sunwold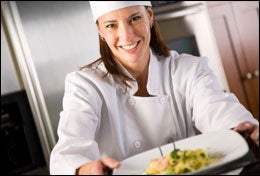 From the viewpoint of someone with chronic kidney disease (CKD), I find creating kidney-friendly diets one of the most interesting culinary challenges I have ever had to face in my professional cooking career. The more I study and talk with kidney dietitians and doctors, the more determined I am to make tasty kidney-friendly cuisine. I believe flavor is the key to helping people with CKD maintain their diets. I'm not fond of the word diet because it's a four-letter word. Instead, I use the term lifestyle. Here are few of the culinary techniques I use to keep my kidney-friendly lifestyle.
PROTEIN
I try to lower the amount of animal protein (found in beef) or replace the animal protein in my diet with a plant based protein like tofu, grains, seitan (a wheat protein), legumes (beans), or couscous. Once I decide on a plant-based substitution, my next hurdle is making up for the flavor I have removed. I might add more non-sodium (non-salt) seasonings like a salt-free grilling spice mixture for meats or seafood in the cooking process. I also try to increase flavor by changing the cooking method like roasting vegetables to add more flavors in to the cooking liquid for soups and sauces. When cooking with tofu I marinate overnight to allow the flavors to be absorbed by the tofu. I also use a dry-rub mixture of herbs on plant-based proteins to add more flavor.
SAUCES
Some plant-based dishes, like grilled tofu or seitan, might become dry. To improve the quality of the flavor I will add a sauce that adds moisture and flavor into the dish. I use seasoned, thickened rice milk in place of traditional cream sauces. By simmering roasted vegetables and seasonings in rice milk before thickening, the flavors are allowed to blend together. Another important cooking technique is to use home-made roasted vegetable stock (see recipe below). My old European chef-instructors I studied under taught me that a flavorful stock will always enhance the flavor of any dish.
SODIUM
Keeping track of my sodium is the most difficult of challenges because sodium is in so many different foods, condiments, and combinations of seasoning mixtures. I removed garlic salt, onion salt, and celery salt from my spice rack and replaced them with garlic powder, onion powder, and celery seeds. One of the cooking methods we use in commercial kitchens is to mix our dried whole herbs or seeds together, heat the mixture in a medium heavy bottom pan, over medium heat, shaking constantly until the mixture becomes aromatic. This brings out more flavors without adding sodium. I also learned from many talented chefs to buy a separate coffee grinder for grinding these herb combinations. Warning: let the roasted herbs cool slightly before grinding.
POTASSIUM
When watching potassium levels I try to cook only with foods that are low in potassium. This is when I brainstorm and become very creative. Our cooking school experimented with this last year by making beet sorbet. We served it to guests in our restaurant and the comments were all very positive; even from people who are not fond of beets. Who said low potassium vegetables are just for the dinner plate anymore?
FAT
I take out as much fat from recipes as I can without giving up my goal of keeping flavor in. I use vegetable stock in place of salad oils when making salad dressings. One gifted chef instructor at our culinary school taught me this technique. The results are great; the dressing is tasty and our dietitian likes the lower calories.
SUGAR
I use as much fresh fruit as possible. I find sugar very addictive; the more I use it the more I crave it. So I stopped myself from this cycle by slowly weaning myself down. I eat fresh fruit for dessert. A trick I learned from a clever chef in Scottsdale showed me how to make smaller protein portions and give the customers larger portions of fresh fruit for dessert. The flavors eaten during the last course are the ones that stay on our palates the longest. By doing this I don't feel deprived of foods I like.
CRAVINGS
I often get cravings. The best defense is a strong offense. Plan ahead and have healthy choices ready when cravings arrive. I always try to have in-season fresh fruit in my kitchen for a snack, or I will have a plant-based dip (made from tofu) or a vegetable spread to put on low-sodium crackers. Remember, most people satisfy their cravings with foods that are easy to grab like cookies or prepackaged snacks. I have learned to make my own convenient foods ahead of time-before the cravings arrive. As someone with CKD, I live with these challenges every day. I find this new culinary challenge one of the most difficult and most rewarding in my 35-year culinary career. When I find a recipe that tastes good and falls into the "kidney-friendly" category, I feel as though I have just won a gold medal in the Olympics.
Roasted Vegetable Stock
3 large onions
6 medium carrots
4 parsnips
2 leeks, white with two inches of the green top
8 white mushrooms
3 tablespoons vegetable oil
2 tablespoons dry Marsala wine
6 celery stalks
1 garlic head
4 plum tomatoes
3 fresh thyme sprigs
3 fresh parsley sprigs
8 whole peppercorns
1 bay leaf
Pre-heat oven to 400°F. Coarsely chop onions, carrots, parsnips, leeks and trim and quarter mushrooms. Place in two shallow roasting pans. Toss vegetables with oil. Place in oven and stir every 15 minutes until the vegetables are golden brown, about 1 ½ hours. Transfer roasted vegetables to a stock pot or sauce pan. Place roasting pans on stovetop with 1 tablespoon of dry Marsala wine to each pan and pour 1 cup of cold water into each roasting pan. Heat over medium-high heat until water boils and brown drippings on the bottom of the pan can be scraped off. Pour roasting pan liquid into the stock pot with the roasted vegetables. Add the remaining ingredients and enough cold water to cover vegetables by a ½ inch. Bring to a boil over high heat; reduce heat to a simmer, and let cook for 45 minutes. Strain the stock and discard the vegetables.
Chill stock in a cold water bath before storing in the refrigerator or freezer for up to three months.
Nutritional Analysis (1 cup of stock): Calories 21;
Carbohydrates 4 g;
Protein 0.5 g;
Sodium 27 mg;
Potassium 149 mg;
Calcium 24 mg;
Phosphorus 19 mg