NKF CARES: Patient Information Center

Have questions about kidney disease? We can help!
Call toll-free at 855.NKF.CARES (855.653.2273)
or email nkfcares@kidney.org.
We speak English and Spanish and are available Monday - Friday from 9:00 am - 7:00 pm Eastern Time.
About NKF Cares:
Our Patient Information Help Line, NKF Cares, offers support for people affected by kidney disease, organ donation or transplantation. It's designed just for patients, family members and care partners. Speak with a trained specialist who will answer your questions and listen to your concerns.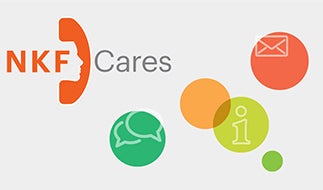 TESTIMONIALS
"Thanks for helping me take care of my health...
I thank you for your thoroughness and kindness. You have given me many tools to make me a more informed consumer."
"I can't tell you how much I appreciate your generous, kind response to my request for information. The wealth of information you provided will certainly help me to support my husband's effort to maintain the kidney function he has for as long as possible. While this is certainly frightening for both of us, at least we are more confident that we are informed about better choices. Thank you so much!"
"Multiple topics that are up to date. Written pamphlets were helpful as I do not have a computer. Thank heavens these materials are FREE and easy to read in layman's terms."
"Thank you so very much. I certainly appreciate such information that changed my medical treatment and probably my life."