Missouri Ending Disparities in CKD Leadership Summit (Show Me CKDintercept Initiative)
About the Initiative
It is estimated that approximately 700,000 adults in Missouri are living with chronic kidney disease (CKD), but only 84,000 are aware that their kidneys are impaired. Fewer than 17% of those at risk (people with diabetes and/or hypertension) are tested for CKD each year in Missouri.1
As part of a national NKF Collective Impact strategy, Missouri stakeholders are implementing a roadmap to drive a cultural shift in primary care- toward increasing the early diagnosis and management of CKD, especially in communities disproportionately burdened by CKD.
Collective Impact Process
NKF, in partnership with the Missouri Kidney Program, is employing a multi-phase stakeholder engagement process to create the conditions for Collective Impact - influential champions, adequate financial resources, and a sense of urgency for change 2- to drive change in Missouri.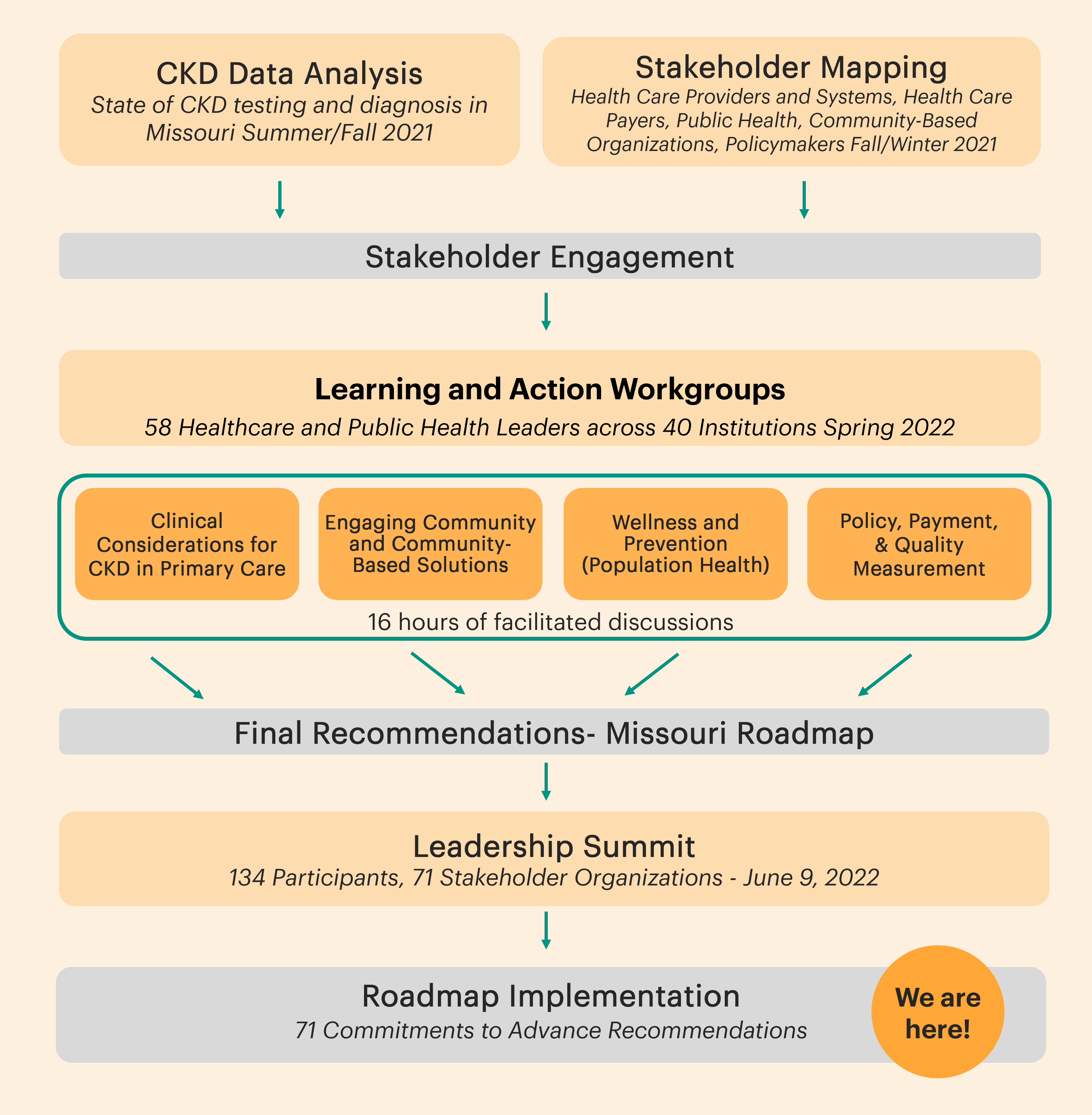 Learning and Action Workgroups
Through a series of facilitated discussions in Spring 2022, health care and public health leaders identified barriers and solutions to improve CKD awareness, detection, and management in Missouri, including tools and strategies that could be implemented within stakeholders' own institutions. Learning and action workgroups increased awareness and action amongst 58 participants across 40 Missouri institutions. The four workgroups convened covering the following topics:
Clinical Considerations for CKD in Primary Care
Goal: To discuss strategies and approaches that can be employed to improve CKD recognition and care in primary care settings.
Background: A large, national study illustrated that less than 12% of people with CKD were diagnosed in primary care.3 This included as many as 40% of people whose kidneys required specialty care. With the advent of new therapies demonstrated to slow or stop the progression of CKD, there is very real opportunity to improve quality of care for people with CKD across the entire spectrum of disease.
Engaging Community and Community-Based Solutions
Goal: To develop strategies to advance CKD awareness through community engagement and to ensure that health care providers are aware of the community resources available to delay CKD progression.
Background: In the U.S. today, only 10% of people with laboratory evidence of CKD know that they have kidney disease.4 Improved patient awareness, engagement, and self-management are vital to successfully slowing CKD progression. As diabetes and hypertension play significant roles in the development of CKD, working with community organizations that support individuals with chronic disease can be an important step toward raising public awareness of CKD among those at risk for CKD.
Wellness and Prevention (CKD Population Health)
Goal: To develop a strategy to incorporate CKD testing and diagnosis into wellness and prevention practices within the employer/commercial health plans, and the broader community.
Background: To date, almost 90% of people living with CKD remain undiagnosed in the population and the majority will not receive guideline recommended annual testing.6 This breakout session discussed the strategies that can be developed and employed to ensure that CKD testing and diagnosis are included as part of the wellness and prevention services, including corporate programs, diabetes prevention activities, etc., that are available in the state.
Policy, Payment, and Quality Measurement
Goal:

To develop a strategy to streamline CKD testing in primary care from a policy and payment perspective.
Background: In July 2020, the NCQA released the Kidney Health Evaluation for Adults with Diabetes HEDIS measure (KHE).

5

This measure assesses the percentage of people with diabetes that receive both tests for CKD during the course of a year. When tested against over 70 claims datasets, this measure was achieved in only 35% of cases. This measure began collecting data for public reporting in October 2021.
Roadmap
After 16 hours of facilitated discussion, 58 stakeholders identified 12 strategies to improve testing, diagnosis, and early management of CKD in Missouri. Read the roadmap summary here.
Leadership Summit
On June 9, 2022, NKF, in partnership with the Missouri Kidney Program and Missouri Department of Health and Senior Services, hosted a virtual summit to present the recommendations and engage partners in joining the Collective Impact Approach. Over 220 key healthcare and public health stakeholders registered, and 134 attendees participated in this convening. Of the 12 recommendations presented at this event, 71 individuals made commitments to advance one or more recommendations of the roadmap at varying levels of support.
Recommendation Implementation Status
Improve public awareness of CKD
Coordinate with Local Missouri Stakeholders to Customize and Expand NKF's Awareness Campaign
Thanks to funding from the Missouri Department of Health and Senior Services (MODHSS) and Missouri Kidney Program, NKF is collaborating with local partners to engage community members at risk for CKD (with diabetes and/or hypertension) so that NKF can understand the most effective content, delivery, and dissemination strategies for the NKF Risk Quiz and accompanying resources. This community engagement process will take place in August and September 2023 with three focus group discussions targeting low-income/Medicaid eligible and Hispanic participants across the St. Louis Promise Zone region as well as rural participants in Randolph County. We hope to increase quiz and resource engagement, CKD understanding, and patient activation, especially amongst this at-risk population impacted by CKD.
Engage Community Health Workers, Community Paramedics, and other frontline staff
Following key informant interviews and a Community Health Worker workshop at NKF's Spring Clinical Meetings, NKF developed a Community Health Worker educational video series and is in the process of launching additional modules with the support of CHW committee members across Missouri and in partnership with the National Association of Community Health Workers (NACHW). The NKF's Community Health Worker hub will feature specific trainings with a certificate of completion available for learners and tools to engage patients in CKD awareness, detection, and management.
Translation of CKD Educational Materials
NKF partnered with local Federally Qualified Health Centers to identify languages most spoken second to English in the St. Louis Promise Zone region. As a result, 2-sided CKD educational flyers were translated in Arabic, Bosnian, Dari, Farsi, Kinyarwanda, Nepali, Pashto, Somali, Spanish, Swahili, and Vietnamese.
Clinician and Health System Opportunities - Deploy tools and systems change approaches to improve CKD diagnosis and Management
Expand NKF's CKD Learning Collaborative to engage more health systems and primary care clinicians in an active process of change
NKF's CKD Learning Collaborative is a quality improvement initiative to improve clinician awareness and routine testing for CKD and ensure that people with laboratory evidence of CKD are appropriately risk stratified and receiving guideline concordant care. In Virginia, participating practices have realized as much as a 55% increase in CKD testing and diagnosis among patients with diabetes within 1 month of implementation. NKF is currently partnering with University Health in Kansas City to engage 66 learners in this model. Beginning with CKD data analysis, University Health made updates to their EMR to reflect CKD alerts and modifications to order sets/dot phrases to reflect current guidelines. Individual practice meetings with the sites will continue through February 2024, and teams will review performance data on an ongoing basis to demonstrate measurable change of those who were accurately tested, diagnosed, and managed.
Following the June 9th convening, multiple institutions have expressed interest in participating in a future learning collaborative. NKF continues to meet with interested institutions and to explore next steps for implementation. Please contact NKF Senior Manager of Population Health Partnerships, Megan Schultz, to explore implementing a Learning Collaborative at your institution.
Implement the Kidney Profile in all healthcare institutions in Missouri
The "Kidney Profile" combines two lab tests, the estimated glomerular filtration rate (eGFR), which assesses kidney function, and urine albumin-creatinine ratio (ACR), which assesses kidney damage. This combination streamlines test ordering and ensures guideline concordant testing. Since engagement for Show Me CKDintercept began, 3 institutions have fully implemented the Kidney Profile and 1 is in the implementation process. This adoption is estimated to impact over 380,000 patients served across Missouri health systems. NKF continues to engage institutions, providing guidance and support to those institutions interested in learning more or implementing the Kidney Profile.
Increase clinician participation in the Show-Me Kidney Disease ECHO
The Show-Me Kidney Disease ECHO aims to increase clinician participation in team-based care conversations to optimize support and facilitate care management in CKD. This interdisciplinary opportunity offers CME and MOC II credits at no cost to attendees. Information about the Show-Me Kidney Disease ECHO has been disseminated electronically on a quarterly basis to all participants who identified this strategy in their commitment forms. It has also been promoted at Medical Grand Rounds presentations to encourage participation across Missouri institutions.
Convene a Missouri Payer Roundtable
NKF's Missouri Payer Roundtable convened ten senior leaders from Missouri health plans for three roundtable discussions exploring kidney disease strategies and priorities for their organizations. Beyond prioritization of the KED HEDIS measure, leaders discussed approaches to improve star performance on the measure relating to clinician and patient engagement. Consequently, attendees voiced interest in deploying a provider/member shared strategy. NKF is currently meeting individually with these organizations to advance this collaborative program. Most discussions have focused on the importance of beginning with CKD data analysis to understand gaps in care and opportunities for improvement. A payer follow-up meeting will be held late fall/early winter to discuss the business rationale and next steps associated with execution of a CKD shared strategy. Please reach out to NKF for more information or to join this collaborative campaign.
Execute pilot programs to explore novel approaches to improve CKD testing rates
Pharmacy-Pilot Project
The National Kidney Foundation (NKF) and the Community Pharmacy Enhanced Services Network of Missouri (CPESN MO) received funding from the Missouri Foundation for Health to demonstrate that a pharmacy-driven approach to improved CKD testing is feasible and can improve disease awareness and medication optimization for people living with CKD. Following project training and dissemination of a CE program for pharmacists, three Missouri community-based pharmacy sites will provide CKD risk education and refer a total of 300 patients to testing from August 2023-April 2024. As a part of this collaboration, NKF is partnering with the Mississippi County Health Department Laboratory (MCHDL) to support one pharmacy. MCHDL agreed to establish a standing order for CKD testing for all individuals at risk for CKD who utilize this site. NKF is working to identify the other local Department of Health laboratories in Missouri to establish similar standing orders in rural communities. Project outcomes will be utilized to advocate for expanded authority of pharmacists in Missouri to provide better care for at-risk patients and increase access to care across underserved communities.
CKD Home Testing Project
NKF is partnering with Healthy.io to evaluate the efficacy of distribution of home CKD test kits in increasing awareness and improving early CKD diagnosis. In Missouri, NKF has identified several partners to support dissemination, including a Federally Qualified Health Center who has engaged in a CKD data strategy to identify low levels of CKD testing among patients at risk for CKD and will be distributing Healthy.io at home urine albumin-creatinine ratio test kits to nearly 5,000 patients. Final data on the program outcomes are expected in April 2024.
Increase available data on CKD testing in Missouri
With guidance from NKF, the Missouri Kidney Program offered to take the lead on gathering data to display all stages of kidney disease and to highlight areas of opportunity in the state. We received valuable data from MODHSS from their death records (2018-2020), indicating kidney disease as a contributing factor. We also received additional data from Missouri Hospital Association's health economist, Mat Reidhead, of distribution of CKD diagnosis by race, payer, and age, from stages 1-3 and stage 4. We will continue to consider other data partners whose data would align with what we have already received from our existing generous data partners. The target audience for the completed work would be providers, researchers, policymakers, payers, employers, and funders.
We are exploring options for data visualization and will then begin to design version(s) of a storyboard of longitudinal data from early CKD to ESRD, along with concrete calls to action and areas of opportunity. More data is essential to fully understand the impact of the social determinants of health on chronic diseases and the health disparities in Missouri.
Establish a cohesive Chronic Disease improvement strategy for clinicians and community partners
Potential avenues to develop this strategy could include a statewide Chronic Disease Conference or other engagement strategies amongst organizations and community partners working in Chronic Disease. Planning has not yet begun, but if you are interested in supporting this strategy to develop comprehensive messaging for chronic disease awareness and improvement, please contact us.
Learn More and Join the Collective Impact Effort
For more information about this initiative or to get involved, please contact:
References
1. Alfego D, Ennis J, Gillespie B, Lewis MJ, Montgomery E, Ferrè S, Vassalotti JA, Letovsky S. Chronic Kidney Disease Testing Among At-Risk Adults in the U.S. Remains Low: Real-World Evidence From a National Laboratory Database. Diabetes Care. 2021 Sep;44(9):2025-2032. doi: 10.2337/dc21-0723. Epub 2021 Aug 5. PMID: 34353883; PMCID: PMC8740927.
2. Hanley Brown, F. Kania, J. and Kramer, M. Channeling Change: Making Collective Impact Work. Stanford Social Innovation Review. 2012. https://doi.org/10.48558/2T4M-ZR69
3. Szczech, Lynda A., et al. "Primary Care Detection of Chronic Kidney Disease in Adults with Type-2 Diabetes: The ADD-CKD Study (Awareness, Detection and Drug Therapy in Type 2 Diabetes and Chronic Kidney Disease)." Public Library of Science, 26 Nov. 2014. https://doi.org/10.1371/journal.pone.0110535
4. "Chronic Kidney Disease (CKD) Surveillance System: Awareness." Centers for Disease Control and Prevention. https://nccd.cdc.gov/ckd/detail.aspx?QNum=Q97#refreshPosition
5. Brock, Matt. "Kidney Health: A New HEDIS Measure." NCQA Blog, 16 Jul. 2020. https://blog.ncqa.org/kidneyhealth/
6. "Chronic Kidney Disease in the United States, 2021." Centers for Disease Control and Prevention, 4 Mar. 2021. https://www.cdc.gov/kidneydisease/pdf/Chronic-Kidney-Disease-in-the-US-2021-h.pdf
7. Vassalotti, J. A., DeVinney, R., Lukasik, S., McNaney, S., Montgomery, E., Voss, C., & Winn, D. (2019). CKD quality improvement intervention with PCMH integration: health plan results. The American journal of managed care, 25(11), e326–e333.