National Kidney Foundation Board Announces Anthony Tuggle as Chairman-elect, Dr. Paul M. Palevsky as President-elect
Anne Barr and Tracy McKibben are newest Board Members
New York, NY – November 13, 2019 –
Telecommunications executive Anthony Tuggle has been announced as Chairman-elect of the
National Kidney Foundation
(NKF). Tuggle, a current NKF Board Member, will take the helm in October 2020 from NKF Chairman and corporate influencer John Gerzema. Paul M. Palevsky, MD, is President-elect and will step in after NKF President Holly Kramer, MD, concludes her term in October 2020. NKF also welcomes corporate strategist Anne Barr and business leader Tracy McKibben as the newest Board Members, whose terms start immediately.
The new positions were announced at NKF's most recent board meeting held at One World Trade Center in New York.
"Anthony has been an effective champion for NKF nationally and locally, and we look forward to his leadership as Chairman, said Kevin Longino, NKF CEO and a kidney transplant patient. "We also expect great things from our new President, Paul, as he continues to lend his medical expertise to help us increase awareness about kidney health, kidney disease and the need for more living organ donors. Certainly, the business acumen that Anne and Tracy bring individually will add value to the work we do every day on behalf of the 37 million Americans who have kidney disease."
Tuggle lives in Atlanta and received a kidney transplant more than 20 years ago. He is AT&T Vice President of Sales, serves on the national NKF Board, and is a local Board Member of NKF Serving Alabama, Georgia and Mississippi. At AT&T, Tuggle leads more than 20,000 sales leaders and customer care experts and has built a culture that fosters a passion for winning. He models a "find-a-way" mindset in his approach to leadership. Tuggle is the author of the book I'm Better Not Bitter: My Personal Journey - Kidney Transplant Recipient's Story of Winning in Business & Life and Moving Forward, which shares how he has overcome obstacles, is self-motivated, and creates a work culture of success. Tuggle is committed to working with NKF to help fight kidney disease. He was 2018 Chairman of the Atlanta Kidney Walk, which raised more than $250,000 for NKF. He also has partnered with AT&T to raise more than $100,000 to date.
"I'm a servant leader who is very passionate about making a difference in our community and changing people lives," Tuggle said. "This role as NKF Chairman affords me an opportunity to continue to fight to find a cure for
kidney disease
and, ultimately, one day we will live in a world free from this disease."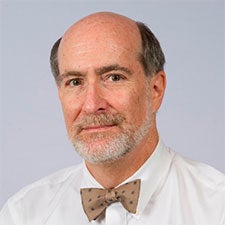 Dr. Paul M. Palevsky
Dr. Palevsky, a member of the National Kidney Foundation Scientific Advisory Board, is Professor of Medicine and Clinical and Translational Science in the Renal-Electrolyte Division at the University of Pittsburgh School of Medicine and is Chief of the Renal Section at the VA Pittsburgh Healthcare System. Dr. Palevsky completed his undergraduate and medical education at Northwestern University followed by internship and residency training in internal medicine and fellowship training in nephrology at the University of Pennsylvania. He has been a member of the faculty at the University of Pittsburgh since 1989. Dr. Palevsky is internationally recognized as an expert in acute kidney injury and critical care nephrology and has helped lead multiple clinical trials focused on management of acute dialysis, prevention of acute kidney injury and slowing the progression of diabetic kidney disease. He has published more than 250 original articles, reviews and book chapters and has held multiple editorial positions, including inaugural associate editor for acute kidney injury of the American Society of Nephrology's NephSAP and deputy editor of the Clinical Journal of the American Society of Nephrology. He is currently deputy editor of the Journal of the American Society of Nephrology. Dr. Palevsky has received numerous awards including the National Kidney Foundation's J. Michael Lazarus Distinguished Award in 2017.
"I am honored and humbled by the opportunity to help lead the National Kidney Foundation and to advocate for the estimated 37 million Americans with kidney disease and the millions more at risk," said Dr. Palevsky. "This is a very exciting time, both as a result of recent advances in treatment of kidney disease and because of the new focus on kidney health through the government's Advancing American Kidney Health initiative. I hope to expand upon NKF's ongoing efforts to increase awareness of and early detection of kidney disease with the goal of raising the public profile of kidney disease to the same level as that of heart disease, stroke and cancer."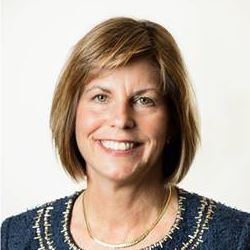 Anne Barr
Barr has served as a Board Member of NKF Serving Northern California since 2013, including three years as Board Chair. Recently, as Chief Information Officer for Sutter Health Bay Area and earlier as Regional Information Officer for Kaiser Permanente in Northern and Southern California, Barr oversaw the transition to electronic health records, where she also had the opportunity to work with kidney transplant centers. Barr now consults on healthcare technology and digital transformation. She received a Bachelor of Arts from Dartmouth College and an MBA from Harvard Business School. Her involvement with NKF began about 14 years ago through her work at Kaiser Permanente, but she was personally drawn to the organization when a good friend became a kidney donor for someone he barely knew. This inspired Barr to learn more about kidney disease and help NKF's efforts to support patients, research and public policy objectives to advance kidney health. Among her multiple leadership roles as a local NKF Board Member, Anne has recruited Corporate Chairs to sponsor the Kidney Walk.
"My passion, and a lot of the work I'm currently doing, is helping organizations leverage technology to create new capabilities and engagement models for their customers, patients, and partners," Barr said. "I think this experience of becoming a national Board Member will help NKF in advancing the lives of kidney patients and supporting kidney health."
Tracy McKibben
McKibben is Founder and CEO of New York-based MAC Energy Advisors LLC, a global investment and consultant company. The Harvard Law School graduate and former National Security Council official in The White House, grew up in Jackson, GA, as a preacher's daughter and one of 14 siblings. She strongly believes in the importance of community and supporting charities. McKibben donated a kidney to her mother, who was on dialysis for several years. That gift extended her mother's quality of life. As a result of her experience, McKibben believes support for education regarding live organ donation is important for many communities. In 2018, McKibben and Velma Scantlebury-White, MD, America's first African American female transplant surgeon, were featured in a national, 60-second video public service announcement (PSA) produced by NKF. Launched in April - National Donate Life Month and National Minority Health Month – the PSA highlighted that African Americans are at least three times more likely than Whites to develop kidney failure and to urge those at risk to get checked by their doctor every year. McKibben shared her personal story in the PSA, which also promoted NKF's nationwide platform THE BIG ASK: THE BIG GIVE, designed to increase kidney transplantation through training and tools that help patients and families find a living donor.
"I certainly look forward to advancing the National Kidney Foundation mission and bringing awareness to the impact of kidney disease on individuals, families and communities," McKibben said. "I am especially interested in working on initiatives on prevention and treatment for the disease in the African American community."
Kidney Disease Facts
In the United States, 37 million adults are estimated to have
kidney disease
– and most aren't aware of it. 1 in 3 American adults is at risk.
Risk factors for kidney disease
include diabetes, high blood pressure, heart disease, obesity, a family history of kidney failure, and being age 60 or older. People of African American, Hispanic, Native American, Asian or Pacific Islander descent are at increased risk for developing the disease. African Americans are about 3 times more likely than Whites to develop end-stage kidney disease (ESKD or kidney failure). Compared to non-Hispanics, Hispanics are almost 1.3 times more likely to receive a diagnosis of kidney failure.
The National Kidney Foundation (NKF) is the largest, most comprehensive, and longstanding patient-centric organization dedicated to the awareness, prevention, and treatment of kidney disease in the U.S. For more information about NKF, visit
www.kidney.org
.