National Kidney Foundation Awarded Accreditation with Commendation for Continuing Medical Education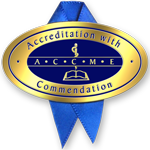 (NEW YORK, NY)—April 4, 2012 — The National Kidney Foundation (NKF) has earned Accreditation with Commendation from the Accreditation Council for Continuing Medical Education (ACCME). This achievement grants the NKF accreditation through March 2018 and places the foundation in the highest tier of all Continuing Medical Education (CME) providers, including the nation's most prestigious medical schools and professional medical societies.
"NKF's professional education and CME programs are setting the gold standard in nephrology," says Lynda Szczech, MD, National Kidney Foundation President, "We're proud to be recognized as a leader in developing evidence-based practice guidelines and educational resources based on them that are influencing medical practice nationwide ."
ACCME accreditation demonstrates that the CME provider is offering quality activities which have been designed and implemented in accordance with standards. ACCME-accredited providers certify educational activities for AMA PRA (American Medical Association Physician's Recognition Award) Category 1 Credit™, used by state licensing boards and boards of medical specialties to relicense physicians and recertify them in their specialty areas.
The ACCME commended NKF for not only meeting the accreditation requirements but for demonstrating that NKF is a learning organization and a change agent for the physicians it serves. ACCME recognized that NKF has demonstrated an engagement with its environment in support of physician learning and change that is a part of a system for quality improvement.
ACCME accreditation seeks to assure the medical community and the public that the NKF provides physicians with relevant, effective, practice-based continuing medical education that improves patient outcomes. In achieving Accreditation with Commendation, the NKF has been recognized for the following activities:
Operating in a manner that integrates CME into the process for improving professional practice by the inclusion of KDOQI Guidelines into CME activities and ensuring patient access to the CMS MIPPA benefit
Utilizing non-education strategies to enhance change such as patient and professional resources including information and algorithms on best practice and screening, Smartphone medical apps to be used in the clinical setting and educational reinforcement messages post-participation in a CME activity,
Implementing educational strategies to remove, overcome or address barriers to physician change with innovative programs such as "Virtual Patient" CME and confidence-based learning
Building bridges with other stakeholders namely the FDA, CDC and CMS through collaboration and cooperation
Participating within an institutional framework for quality improvement by establishing itself as a leader in evidence-based criteria driven educational resources for CKD and collaborating with multiple national organizations including CMS, CDC, US Renal Data System, NIDDK and various other State Health Departments
Influencing the scope and content of activities/educational interventions through KDOQI, the broadly accepted clinical practice guidelines in nephrology
In addition to CME for physicians, the NKF offers free continuing education activities that are accredited for physician assistants, nurse practitioners, nurses, dietitians, pharmacists, social workers, and dialysis technicians.
The National Kidney Foundation (NKF) is dedicated to preventing and treating kidney and urinary tract disease, improving the health and well-being of individuals and families affected by these diseases and increasing awareness of all organs for transplantation. For more information on NKF's professional education, visit www.kidney.org