NKF Will Host NKF Live Event on CKD-aP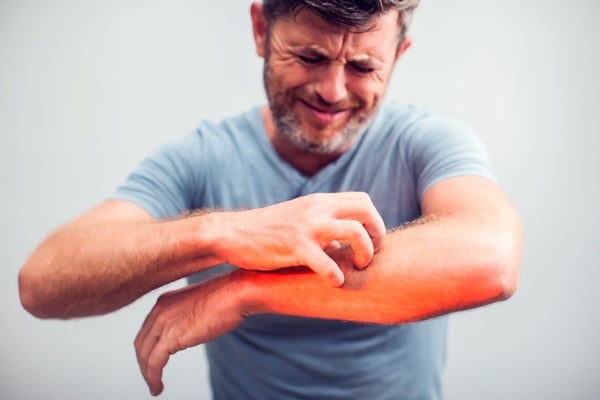 Join us for an Informative Discussion on a Common Issue Affecting Many Advanced Kidney Disease Patients
(New York, NY – Sept. 15, 2022) - The National Kidney Foundation (NKF) will host an informative NKF Live event on Friday, Sept. 16 at 2 p.m. (ET)/11 a.m. (PT) to explore a very common condition in advanced-stage and end-stage kidney disease (ESKD) patients called uremic pruritus. Today, the condition is also known as chronic kidney disease–associated pruritus (CKD-aP), a debilitating condition of itchy skin that is specific to CKD patients. The cause of CKD-aP is not completely understood, but it has been associated with a variety of CKD-related abnormalities.
CKD-aP affects patients in different ways. Although some CKD-aP patients have issues with itchy skin in the early stages of kidney disease, most ESKD patients on dialysis encounter this common issue before, during, after, or between dialysis sessions. And simply scratching to stop the itch might actually harm the skin. The severity of issues with this disease depends on the patient as symptoms could be barely noticeable or include endless itching, along with skin sores and skin infections. Topical treatments to address dryness and itching are available, but severe cases require systemic treatments. According to a recent Dialysis Outcomes and Practice Patterns Study (DOPPS), patients dealing with severe itching were more likely to discontinue dialysis and skip hemodialysis sessions and were less often employed.
"Kidney disease affects an estimated 37 million adults in the United States. Of those, there were 566,000 Americans living with kidney failure and treated with dialysis in 2019. Patients often suffer in silence with uremic pruritus, but it doesn't have to be that way," said NKF Chief Medical Officer Joseph Vassalotti, MD. "The first issue is to partner with your dialysis care team to find out if the itch is related to kidney failure or caused by other problems that may be unrelated, such as dry skin, certain types of liver disease, or rare malignancies. Next, relief from the itch is key as patients may experience loss of sleep, shorten or missed dialysis sessions, fatigue, depression, and infections that are consequences of pruritus. We urge patients and healthcare teams to join us for this special NKF Live event to help increase awareness and educate physicians on this bothersome condition. We must continue to emphasize the importance of good kidney health and addressing all issues in an effort to lighten the burden faced by kidney patients coping with this itch."
Although the cause of CKD-aP is not fully known, an immune response to CKD can involve the body attacking itself and becoming inflamed and itchy. There are certain lab values found in people with CKD, such as a low white blood cell count that could mean the body is inflamed. Additional factors related to CKD and ESKD that could be related to CKD-aP include:
Not enough dialysis for proper removal of toxins and wastes
High parathyroid hormone (PTH) levels in the blood
A combination of high calcium and phosphorus levels in the blood
High magnesium or aluminum levels in the blood
Cells in the body release histamine and other chemicals that cause itching
Shrinking sweat glands cause very dry skin, also called xerosis
Nerve damage due to CKD and ESKD
Learn more about CKD-aP by attending the upcoming NKF Live event Friday, Sept. 16 at 2 p.m. (ET)/ 11 a.m. (PT), which will be moderated by NKF Project/Product Director Gary Bronz and patient Dawn Edwards will share what it's like to live with this disease. Tariq Shafi, MD, MHS, the John D. Bower Director in the Division of Nephrology at the University of Mississippi Medical Center, will join the discussion. Dr. Shafi will share more on how to diagnose and treat CKD-aP as well as offer tips on how to manage this condition. This NKF Live event was sponsored by CSL Vifor.
For more information about kidney disease and CKD-aP, explore the National Kidney Foundation website.
Kidney Disease Facts
In the United States, 37 million adults are estimated to have chronic kidney disease—and approximately 90 percent don't know they have it. 1 in 3 adults in the U.S. are at risk for chronic kidney disease. Risk factors for kidney disease include: diabetes, high blood pressure, heart disease, obesity, and family history. People of Black or African American, Hispanic or Latino, American Indian or Alaska Native, Asian American, or Native Hawaiian or Other Pacific Islander descent are at increased risk for developing the disease. Blacks or African Americans are almost 4 times more likely than White Americans to have kidney failure. Hispanics are 1.3 times more likely than non-Hispanics to have kidney failure.
The National Kidney Foundation (NKF) is the largest, most comprehensive, and longstanding patient-centric organization dedicated to the awareness, prevention, and treatment of kidney disease in the U.S. For more information about NKF, visit www.kidney.org.