Great Chefs of the West: On The Go!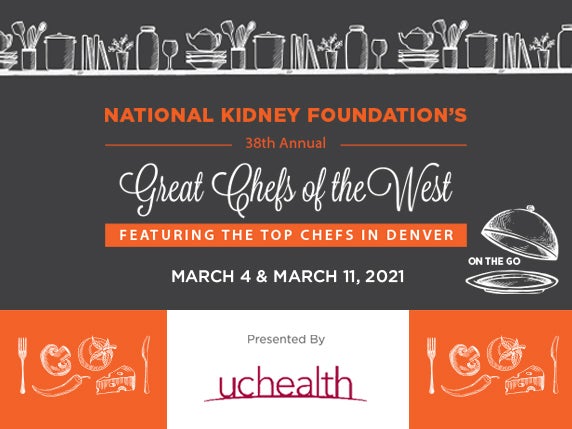 Join us on March 4th or March 11th for the 38th Annual Great Chefs of the West: On the Go, a new and exciting way to enjoy fine dining, fabulous cocktails and so much more – all while supporting a cause that's meaningful to you. Great Chefs of the West has a new tag line and a renewed purpose of not only supporting those dealing with kidney disease here in Colorado but also helping local restaurants and chefs who have generously supported our work.
Step 1: Purchase a ticket to Great Chefs of the West-On The Go!
Step 2: Choose your restaurant and your date of either Thursday, March 4 or Thursday, March 11
Step 3: Call and make a reservation or place your to-go order
Step 4: Enjoy a three-course meal and cocktails
Step 5: Receive a recipe book with recipes from our participating restaurants
Participating restaurants include Woodie Fisher, The Bindery, Hop Alley, Death & Co., Guard & Grace and Four by Brother Luck in Colorado Springs.
Thank you for supporting the National Kidney Foundation and your local community. We hope you'll join us in March!