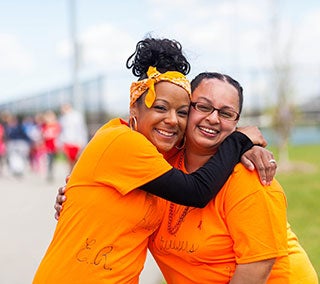 The Kidney Walk is the nation's largest walk to fight kidney disease. Held in nearly 100 communities, the event raises awareness and funds lifesaving programs that educate and support patients, their families and those at risk. Take a lifesaving step today and sign up for a walk below.
Denver Kidney Walk - September 15, 2019, at Great Lawn Park
Southern Colorado Kidney Walk – September 22, 2019, at Memorial Park
KEEP Healthy - Free Kidney Health Check
The National Kidney Foundation's community-based initiative to educate about the kidneys, risk factors for kidney disease, and steps to take to keep kidneys healthy and reduce risk.
Check-up includes: risk survey, body mass index (BMI), blood pressure check, free educational materials, and opportunity to speak with a health care professional. Click here for more information.
Donate your old car, van, truck, or boat to help improve the lives of the millions of Americans affected by kidney disease. Donate now.
Become a Volunteer Today!
If you would like to volunteer, please contact our office at (720) 748-9991.
Traveling to the Colorado Rockies and need dialysis treatments?
For those traveling to the Colorado Rockies, there is a new dialysis clinic open in Avon, Colorado. Kidney Center of the Rockies is the very first outpatient dialysis clinic available to dialysis patients in the Vail Valley area. Whether local or visiting from out of State, patients wishing to vacation or move to the beautiful Colorado Rocky Mountains now have a wonderful option available to them. Click HERE for more information.