Kidney Education & Awards Day
A FREE Patient & Community Education Symposium

Sunday, October 18th, 2015
7:30 am – 1:00 pm
University of Colorado Hospital
Anschutz Inpatient Pavilion 2 (AIP2) Conference Center
12505 E. 16th Avenue Aurora, CO 80045

To register, please call 720-748-9991, xt. 450 or visit www.kidney.org/kead
This is a FREE event open to the public.
Read press releases about the event:
Tackling Kidney Disease Together - NKF Hosting Education & Awards Day
COPIC Medical Foundation Pledges $25,000 to Support Kidney Patients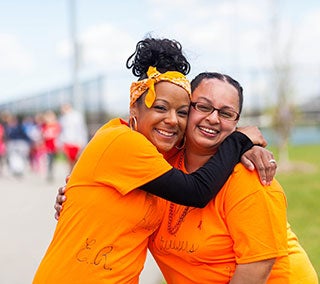 The Kidney Walk is the nation's largest walk to fight kidney disease. Held in nearly 100 communities, the event raises awareness and funds lifesaving programs that educate and support patients, their families and those at risk. Take a lifesaving step today and sign up for a walk below.
Denver Kidney Walk - University of Colorado Anschutz Medical Campus, Aurora, CO
KEEP Healthy - Free Kidney Health Check
The National Kidney Foundation's community-based initiative to educate about the kidneys, risk factors for kidney disease, and steps to take to keep kidneys healthy and reduce risk.
Check-up includes: risk survey, body mass index (BMI), blood pressure check, free educational materials, and opportunity to speak with a health care professional. Click here for more information.
Donate your old car, van, truck, or boat to help improve the lives of the millions of Americans affected by kidney disease. Donate now.
Become a Volunteer Today!
If you would like to volunteer, please contact our office at (720) 748-9991.