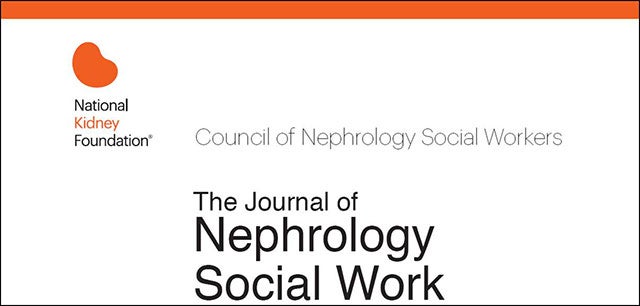 Table of Contents
Improving Advance Care Planning in Chronic Kidney Disease
Mary Beth Callahan, ACSW, LCSW, Dallas Nephrology Associates/Dallas Transplant Institute, Dallas, TX
As the age of dialysis patients increases, it is important to increase attention to advance-care planning (ACP) in the nephrology community. There are numerous ways to accomplish ACP, but it is important to note that having an advance directive (medical power of attorney or living will) does not mean that the clinician has a clear understanding of a patient's perceptions. The goal of this study was to evaluate nephrologists' views of ACP goals-of-care and end-of-life (EOL) discussions and improve ACP in chronic kidney disease (CKD). A needs assessment was created to identify and review barriers and strengths that could inform efforts to increase ACP within a large nephrology practice. A survey of nephrologists from a large practice in Texas regularly seeing patients aged 65 and older (N = 31) was conducted. Two-thirds of nephrologists, compared to 50% of other primary care practitioners (PCPs)/other specialists, feel that it is important to have goals-of-care conversations with patients. Eighty-six percent of the nephrologists had not had a conversation with their own healthcare provider about wishes for care at the end of life, in comparison with 52% of PCPs/other specialists. When nephrologists responded at a higher percentage, 6 out of 7 of those responses were independent from PCPs/other specialists. Nearly three-quarters (74%) of nephrologists thought it was their responsibility to initiate ACP, but also felt that they had not had training for talking to patients and families about ACP. A salient observation is the concern expressed by nephrologists over disagreement between family members and patients, coupled with time constraints and comfort level in discussing goals of care. These factors make licensed and experienced social workers ideal partners to facilitate early and repeated ACP discussions with patients and family members, which lead to greater physician-patient engagement and cost-effective care. By having ongoing ACP conversations with patients and family members prior to late stage CKD, nephrologists could more often achieve the patient- and healthcare-valued outcome of goal-concordant care. Goal-concordant care places the patient's values and wishes at the center of care.

Barriers and Facilitators to Supportive Care for ESRD Dialysis Patients — A Social Worker's Role
Elizabeth Anderson, DSW, LCSW, Western Carolina University, Cullowhee, NC; Nicole St. Charles, LCSW-A, MSW, Charles George VA Medical Center, Asheville, NC; Dale Lupu, PhD, MPH, George Washington University, Washington D.C.
Despite efforts to increase supportive care for patients on dialysis, many barriers continue to exist. This study surveyed dialysis facility staff to examine the barriers and facilitators related to providing supportive care to patients on dialysis. This qualitative analysis revealed five barriers: 1) lack of integrated, holistic teams; 2) practitioner beliefs; 3) perceptions of social work competence; 4) time and workload; and 5) lack of clarity regarding palliative care versus hospice and interpreting Medicare benefits. The analysis also revealed four facilitators related to providing supportive care: 1) integrated, holistic teams, including family involvement; 2) collaboration across care teams; 3) communication and compassion; and 4) formal or regular mechanisms for the review of advance-care plans. Based on the professional ethics code, social workers can play a role in bolstering their own teams' capacity to integrate supportive-care practices. Further, using their advocacy skills, social workers can lead efforts to ensure that they and their colleagues have appropriate training and competence in supportive care. Finally, social workers, with their knowledge of community resources, can help foster innovative collaboration between dialysis organizations and palliative care and hospice organizations, in spite of current regulatory and financial barriers.

Clinical Social Work End-Of-Life Survey: Constructive Work with Patients and Family Members on Advance Directives and Medical Orders for Life-Sustaining Treatment
Kevin A. Ceckowski, MSW, LICSW, FNKF, Marie Salimbeni, PhD, MSW, LCSW, and Dustin Little, MD, Walter Reed National Military Medical Center, Bethesda, MD; Elizabeth I. Jones, MSW, LCSW, FNKF, DaVita Sterling, Sterling, VA; National Military Medical Center, Bethesda, MD; Elizabeth I. Jones, MSW, LCSW, FNKF, DaVita Sterling, Sterling, VA; Teri Browne, PhD, MSW, and Samuel R. Bethel, MSW, LCSW, University of South Carolina, Columbia
This article identifies how clinical social workers in medical-surgical, mental health, and nephrology settings at Walter Reed National Military Medical Center (WRNMMC) and the End-Stage Renal Disease (ESRD) Network 5 Mid-Atlantic Renal Coalition assist nephrologists and other physicians in overcoming barriers to end-of-life (EOL) care planning, particularly in patients with end-stage renal disease (ESRD) or acute kidney injury (AKI). To assess differences in practice patterns, an anonymous survey was administered to determine whether social workers were comfortable having EOL care discussions with their patients, and to also assess if these social workers were able to assist the physicians with EOL care planning. Findings showed that social workers identified multiple barriers to discussing EOL care planning. Participants also identified the most important conversations to have when discussing EOL care planning with their patients.

Promoting Kidney Transplant in the Dialysis Setting and Medical Orders for Life-Sustaining Treatment
Hannah Graves, LMSW, Piedmont Transplant, Atlanta, GA