By Anna Eggebrecht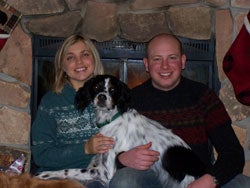 Growing up, a strong work ethic was an unspoken virtue in my family. My parents both worked; my mom providing in-home childcare for a time to accommodate my healthcare schedule and my dad working long hours to pay for the healthcare and the cost of raising a young family. I didn't recognize at the time the sacrifices and unconditional love my parents gave me or how we were different from any other family.
I was diagnosed with Focal Segmental Glomerulosclerosis (FSGS) at the age of four and a half. The doctors at the time were able to put my disease in remission for a few years, but my kidneys eventually failed at the age of nine and I required dialysis. My parents did not have good health care coverage and worked with hospital social workers to find health insurance to cover the costs of dialysis and other medical treatments.
My first kidney transplant at the age of 10 failed to work. It was a disappointing and difficult experience to go through for me and my family. I remember as a child wanting to do nothing but to go home and be the same as my friends. After the failed transplant, I was on dialysis for 13 years. Dialysis was a reliable treatment compared to my failed transplant experience.
Through my teenage years, I balanced school, dialysis, extracurricular activities, employment, and a social life with close friends. My parents supported my interests and opportunities by setting up our house for home dialysis. This allowed flexibility to schedule dialysis around work, school, and personal schedules for our family. In college, I worked part-time and attended school full-time while on dialysis. The State Vocational Rehabilitation Program assisted in providing counseling to help me pick my career and tuition reimbursement. Later, I worked in unpaid internships in Vocational Rehabilitation to gather experience and skills.
My mom was my living donor for the second kidney transplant, 12 years later. We planned the kidney transplant for the summer between my college graduation and beginning of graduate school. Given my first transplant experience, we were cautiously optimistic (at best), expecting little success with my initial diagnoses. Thankfully, the transplant immediately began working. I was sent home four weeks later with my mom's kidney working great and no need for dialysis.
When the transplant was a success, I suddenly had something to lose. A transplant gave me the ability to get any kind of full-time job without needing a schedule to accommodate dialysis. After the transplant, school and employment gave me a sense of steadiness, success, and self-confidence while experiencing new healthcare concerns and adjustment to life after transplant. My close friends and family helped me celebrate the possibilities and opportunities I had ahead. I met my husband and was able to envision a future I didn't see before meeting him or having a transplant.
A year and a half after my successful transplant, I gained full-time employment in the Vocational Rehabilitation field that had helped me. When I began work full-time, it was challenging and stressful at times transitioning health insurance plans, losing the "safety net" of SSI/SSDI, relocating geographically and finding health care providers familiar with organ transplant to coordinate medical care. My parents wanted to help, but as an adult, I needed to learn how to manage my health care.
I have now been working for eight years in the Vocational Rehabilitation field, assisting individuals with disabilities in returning to work, including individuals who have received or are waiting for an organ transplant. I rarely (if ever) self-disclose that I have dialyzed, had kidney transplants, received vocational rehabilitation services, and experienced barriers to employment. This has also given me a unique perspective as I had experienced many of the same struggles individuals with various disabilities are experiencing while trying to re-enter the workforce and I see hope and a future for them where they sometimes don't.
Below are resources I've used, or wish I'd had, when I went off of SSI/SSDI and returned to work. I hope it will help others as they adjust to their new life and return to the workforce. Beyond the technical resources below, I cannot emphasize the benefits of the human support network I had. They give me strength, humor, support, accountability, and high expectations while understanding and humoring my need for a germ-free/food-safe environment post-transplant.
http://www.ssa.gov/disabilityresearch/workincentives.htm (Overview of Work Incentives for people receiving SSI or SSDI when they return to work)
http://www.choosework.net/ (Overview of Return to Work Resources for SSI/SSDI recipients)
http://www.ssa.gov/work/wipafactsheet.html (Work Incentive Planning and Assistance) - (*Note- funding may not continue for this resource)
http://lifeoptions.org (Vocational and Independent Living Options for individuals with renal failure)
http://wdcrobcolp01.ed.gov/Programs/EROD/org_list.cfm?category_ID=SVR (List of State Vocational Rehabilitation Programs to assist individuals with disabilities to obtain, keep or advance in employment)