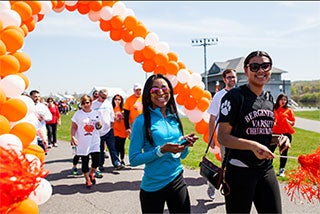 The Kidney Walk is the nation's largest walk to fight kidney disease. Held in nearly 100 communities, the event raises awareness and funds lifesaving programs that educate and support patients, their families and those at risk. Take a lifesaving step today and sign up for a walk below.
2019 Triangle Kidney Walk
Sunday, November 17th – 1:00 PM at Durham Bulls Athletic Park, Durham, NC
Questions: katheryn.cipriani@kidney.org
Patient Empowerment Workshops
An annual collaborative education event that provides the opportunity for local patients affected by kidney disease and their caretakers to celebrate and learn. A volunteer committee of patients and health professionals will organize exhibitors and engage speakers to deliver presentations geared towards stage 4 and stage 5 dialysis patients. In addition, patients are honored as 'everyday heroes' in their fight against kidney disease.
Upcoming Patient Empowerment Workshop announcements coming soon!
Kidney Disease Support – Charlotte
On the second Tuesday of each month, the Charlotte Kidney Disease Support Group meets at Carolinas Medical Center (1000 Blythe Blvd., Third Floor, Dining Room 2 – across from the cafeteria). Enjoy a complementary, renal-friendly dinner and great conversation. Sponsored by Carolinas HealthCare and Fresenius Kidney Care. For more information you can email Jackie or Samantha.
Your Kidneys and You Free Training
Want to educate others about kidney health? Learn how to present this easy 20 minute presentation to friends, family, colleagues, churches, community centers, schools, and more!
YKAY training every third Tuesday of the month at 5:00 pm.
Please register 2 weeks prior to training by contacting Katheryn Cipriani, Program Manager at (704) 519-0020 x625 or email at Katheryn.Cipriani@kidney.org
Webinar and conference call number will be emailed once registered.
NKF Professional Membership Meetings
The Council on Renal Nutrition (CRN) and the Council of Nephrology Social Workers (CNSW) meets bi-annually throughout North Carolina.
For more information please call: (888) 848-5277.
To register for professional council meetings, please contact Katheryn Cipriani Program Manager at (704) 519-0020 x625 or email at Katheryn.Cipriani@kidney.org.
KEEP Healthy - Free Kidney Health Check
The National Kidney Foundation's community-based initiative to educate about the kidneys, risk factors for kidney disease, and steps to take to keep kidneys healthy and reduce risk.
Check-up includes: risk survey, body mass index (BMI), blood pressure check, free educational materials, and opportunity to speak with a health care professional. Click here for more information.
Upcoming Events

Charlotte Kidney Walk at Gateway Village Promenade
Saturday, June 1
7:30am to 11:30am
800 West Trade St.
Charlotte, NC 28202
For more information please contact: Katey Cipriani (704)-770-1130 or katheryn.cipriani@kidney.org
Fight Kidney Disease by donating your car
Donate your unwanted car, van, truck or boat to the National Kidney Foundation. Help fight kidney disease in the Carolinas. Donated vehicles and boats are tax deductible. Donate today!
"We Want Your Discards"
For a pick up call: 704-393-5780 or Toll free 866-408-6464
Several times each year, a representative of Carolina Value Village will telephone residents in your neighborhood seeking donations of furniture, clothing (men's, women's, and children's) and other household items. The representative will confirm a date when a truck can come to your home and pick up items. Each collection of items provides a donation to the NKF. Each donated item is prepared for resale to the public at Carolina Value Village, making fine quality goods available at thrift store prices. One hundred percent of the proceeds received by the NKF supports patient programs. All donated items are tax deductible at present fair market value in accordance with IRS regulations.