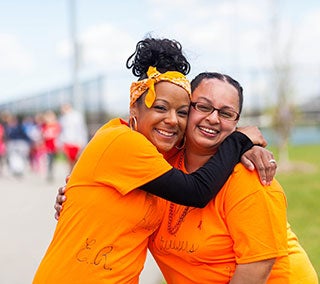 The Kidney Walk is the nation's largest walk to fight kidney disease. Held in nearly 100 communities, the event raises awareness and funds lifesaving programs that educate and support patients, their families and those at risk. Take a lifesaving step today and sign up for a walk below.
May 14, 2016 - 2016 Triad Kidney Walk
June 11, 2016 - 2016 Charlotte Kidney Walk
The NKF Golf Classic is the nation's premier amateur golf event for charity. Qualifying first, second, and third place foursomes from every local NKF Golf Classic are invited to compete at the National Finals held at the famed Pebble Beach Resorts.
Your Kidneys and You Free Training
Want to educate others about kidney health? Learn how to present this easy 20 minute presentation to friends, family, colleagues, churches, community centers, schools, and more!
June 8, 2016
September 14, 2016
Please register 2 weeks prior to training by contacting Ashley Love, Program Manager at (704) 519-0020 x624 or email at Ashley.Love@kidney.org
Webinar and conference call number will be emailed once registered.
NKF Professional Membership Meetings
The Council on Renal Nutrition (CRN) and the Council of Nephrology Social Workers (CNSW) meets bi-annually throughout North Carolina.
For more information please call: (888) 848-5277.
CNSW Meetings
Next Meeting:
May 6, 2016
CRN Meetings
Next Meeting:
May 13, 2016
To register for professional council meetings, please contact Ashley Love, Program Manager at (704) 519-0020 x624 or email at ashley.love@kidney.org.
KEEP Healthy - Free Kidney Health Check
The National Kidney Foundation's community-based initiative to educate about the kidneys, risk factors for kidney disease, and steps to take to keep kidneys healthy and reduce risk.
Check-up includes: risk survey, body mass index (BMI), blood pressure check, free educational materials, and opportunity to speak with a health care professional. Click here for more information.
June 11th, 2016
Charlotte, NC
July 23rd, 2016
Charlotte, NC
Upcoming Patient Empowerment Workshop
Free patient workshop for Stage 4 & 5 patients, caregivers, and local community about kidney disease. This year's theme is "Educating Our Community about Kidney Disease"
Sheraton Greensboro
Greensboro, NC
October 25, 2016
10:00am - 2:00pm
To register for the Patient Empowerment Workshop, please contact Ashley Love, Program Manager at (704) 519-0020 x624 or email at ashley.love@kidney.org.
Fight Kidney Disease by donating your car
Donate your unwanted car, van, truck or boat to the National Kidney Foundation. Help fight kidney disease in the Carolinas. Donated vehicles and boats are tax deductible. Donate today!
"We Want Your Discards"
For a pick up call: 704-393-5780 or Toll free 866-408-6464
Several times each year, a representative of Carolina Value Village will telephone residents in your neighborhood seeking donations of furniture, clothing (men's, women's, and children's) and other household items. The representative will confirm a date when a truck can come to your home and pick up items. Each collection of items provides a donation to the NKF. Each donated item is prepared for resale to the public at Carolina Value Village, making fine quality goods available at thrift store prices. One hundred percent of the proceeds received by the NKF supports patient programs. All donated items are tax deductible at present fair market value in accordance with IRS regulations.