Take Action: Support Living Donor Protections in NC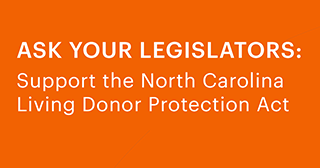 On January 15, 2021, Representatives Phil Shepard (R-15), Marcia Morey (D-30), Pat Hurley (R-70), Donny Lambeth (R-75), and Larry Potts (R-81) introduced the North Carolina Living Donor Protection Act (H.B. 71). This act will prevent long-term insurers from discriminating against organ donors, provide paid leave for state employees who donate an organ, and provide a tax credit to offset expenses incurred above those covered by the recipient's insurance.
We've created a form to automatically email your state legislators to ask them to support the LDPA.