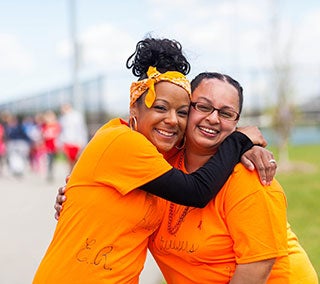 We've had an amazing year thanks to you!
Thank you so much to everyone who supported our September 28th Kidney Walk that was held at Waterfront Park in Louisville. The event was a huge success with over 800 participants who helped us raise funds - and more importantly - raise awareness about CKD!
We look forward to hosting everyone again! Mark your calendars as the NKF Kidney Walk will return to Waterfront Park – Louisville on September 27, 2015! For more information, contact the local office at (502) 585-5433 or email Nital Desai.
View and share photos from our past events and programs on our Facebook!
Join us for the NKF Golf Classic! It will be held on Monday, June 1, 2015, at Hurstbourne Country Club. The NKF Golf Classic is the nation's premier amateur golf event for charity. Members of the winning team will receive the opportunity to advance to the NKF Golf Classic Championship at Pebble Beach Golf Links in Pebble Beach, California.
Please contact April Enix for more information.
The NKF offers 'Your Kidneys & You' awareness and education presentations to any group of individuals interested in learning more about kidney disease. The presentation covers risk factors, what kidney disease means, the importance of early detection, and treatment strategies. If your group or organization would be interested in having a 'Your Kidneys & You' presentation or receiving more information, please contact Nital Desai or call (502) 585-5433 ext. 100.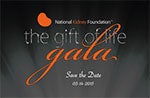 The National Kidney Foundation is proud to announce this year's Gift of Life Gala to be held on Saturday, March 14, 2015 at the Louisville Downtown Marriott. We will be honoring the dedicated medical professionals and pioneers in the treatment of chronic kidney disease. This year's Gala will feature live entertainment, sit down dinner, open bar, and silent and live auctions held in the spirit of supporting the National Kidney Foundation and its mission.
For more information please contact (502) 585-5433 or email April Enix.
Are you or someone you know a dialysis patient?
Sign up for our FREE MAGAZINE, KIDNEY LIVING! Each issue features stories from people who are living well on dialysis, as well as tips for coping with kidney disease, healthy eating, finding support, and so much more.
For people with chronic kidney disease at any stage, understanding how nutrition can affect their health is critical. Kidney health care professionals can help by providing important support and education about dietary requirements and modifications that could potentially slow the progression of kidney disease and improve overall health outcomes.
Click here for helpful tips on salt-free seasoning.
Learn more about Kidney Disease Friendly Cooking.
KEEP Healthy - Free Kidney Health Check
The National Kidney Foundation's community-based initiative to educate about the kidneys, risk factors for kidney disease, and steps to take to keep kidneys healthy and reduce risk.
Check-up includes: risk survey, body mass index (BMI), blood pressure check, free educational materials, and opportunity to speak with a health care professional. Click here for more information.
The easy way to donate your car, van, truck, or boat. By donating your vehicle, you are helping to fund public education, patient and community services, research, professional education and organ donation programs of the National Kidney Foundation. More information
New Patient Packets - New patient information packets are made available to all patients who receive treatment for kidney failure at facilities served by us. Its purpose is to inform patients and their families about kidney disease and of the variety of resources and activities we provide. Please contact 502-585-5433 ext. 100 for your patient packet.
Kentucky Organ Donor Registry - Across the nation, citizens have the opportunity to help others by signing up to become organ and tissue donors through state donor registries.
Kidneys in the Classroom - A health curriculum to be used by students in grades three through five, although can be adapted for any grade. This program gives students a better understanding of healthy kidney function and what happens when kidneys fail. The classes learn about the causes of kidney disease, treatments, and organ donation. It is an interactive and fun experience. For more information, please contact us at or .
Education Literature - The NKF has a variety of educational brochures and materials geared toward patients in the early stages of kidney disease, dialysis patients, family supporters and those who are at risk for kidney disease. Contact us to receive this free literature or view our literature online.