Dallas 6th Annual Bonne Santé, Food and Wine Showcase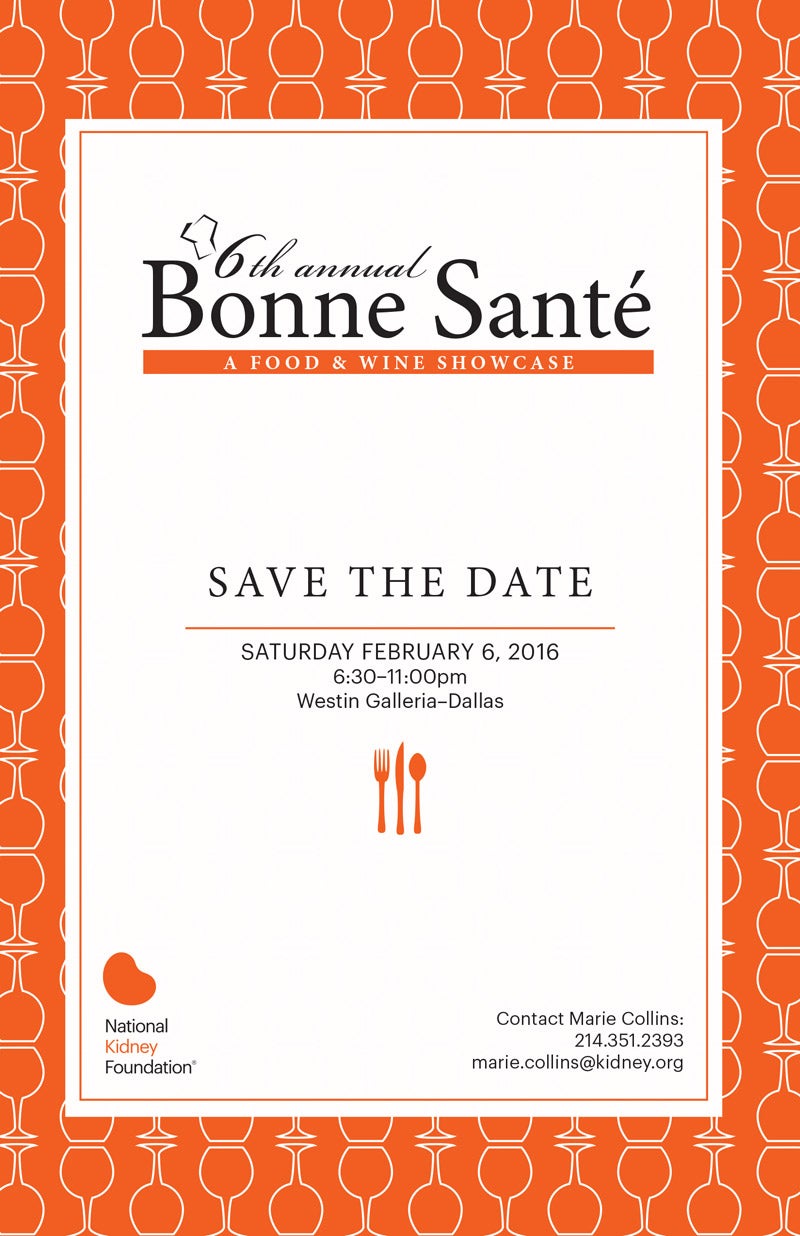 The National Kidney Foundation is teaming up with renowned Chef Scott Gottlich of one of the most highly regarded restaurants in Dallas, The Second Floor, internationally acclaimed and culinary gold medalist Chef William Koval of the Lakewood Country Club, and Chef Edward Mendoza, distinguished five-star chef from Augusta, Georgia for the sixth annual Bonne Santé food and wine showcase. The event features award-winning chefs from Dallas and Fort Worth, as well as top chefs from around the country, each preparing signature dishes paired with fine wines. Bonne Santé is a mix and mingle affair where guests can sample dishes and wines while taking part in a live and silent auction benefiting the National Kidney Foundation. This year's event will be held on Saturday, February 6, 2016 at the Westin Galleria Dallas.
Click here for more information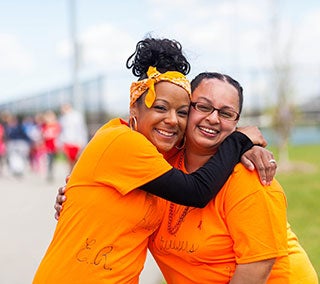 The Kidney Walk is the nation's largest walk to fight kidney disease. Held in nearly 100 communities, the event raises awareness and funds lifesaving programs that educate and support patients, their families and those at risk. Take a lifesaving step today and sign up for a walk below.
April 10, 2016 – Fort Worth Walk, Trinity Park
April 30, 2016 – Dallas Walk, Vitruvian Park
October 23, 2016 – Houston Walk, Houston Arboretum & Nature Center
2016 Date TBD – Austin Walk
The NKF will host three NKF Golf Classics in Texas. The top 5-finishing teams (Gross and Handicap Index Divisions combined) from every local NKF Golf Classic are invited to compete in the National Finals held at the famed Pebble Beach Resorts (additional fees required). The NKF Golf Classic is the nation's premier amateur golf event for charity. Each year thousands of golfers from across the country participate in the events for the exciting competition and the chance to win great prizes - all to benefit a worthy cause.
Mini Education Series and Support Group
Support Group
Held Quarterly in 2016

Connect with others going through CKD or dialysis, get advice, and share information!
Dallas Nephrology Associates
1420 Viceroy Drive, Dallas, TX 75235
For information, call 214.351.2393
Camp Reynal began serving the North Texas pediatric kidney patient population in 1992. The camp is held early each summer at Camp John Marc in Meridian, TX, which was built specifically for children with chronic illnesses. Children ages 8 to16 with chronic kidney disease are eligible to attend Camp Reynal. Unlike most summer camps, Reynal is equipped to take care of children who require daily medication, special diets, and medical treatment such as dialysis. More Info
Dallas Patient Education Luncheon
March 13, 2016
DoubleTree by Hilton – Campbell Centre
Mark your calendars for the 2016 Dallas Patient Education Luncheon & Seminar! Join us for an inspirational and educational day, and connect with kidney professionals, patients and caregivers. We will have educational breakout sessions, an exciting keynote speaker, plated lunch and door prizes!
Donate your Car to Kidney Cars!
Make a car donation and help improve the lives of the millions of Americans affected by kidney disease. Donate now.
The National Kidney Foundation's new NKF Ambassadors program was developed to raise awareness among the general public and individuals at risk for kidney disease by educating them about kidneys, risk factors for kidney disease, and how to protect your kidneys.
Inform your community about Chronic Kidney Disease risk factors by attending or identifying health fairs and community events in your local area.
Educate your community about Chronic Kidney Disease by presenting "Your Kidneys & You" which is a brief overview about kidney function and how to prevent kidney disease.
For more information contact the National Kidney Foundation at (877) 543-6397.
National Kidney Foundation Announce New Partnership
Ambit Energy and Texas have formed this partnership to help you save money on your electricity bill, and to raise funds for NKF. Ambit Energy has a strong commitment to community service and support of non profits and schools. By switching to Ambit Energy from your current provider, NKF earns revenue each month. The amount of money that NKF earns each month depends on your kilowatt hours consumed. More information
Kroger Community Rewards®
Did you know you can support the National Kidney Foundation just by shopping at Kroger? It's easy when you enroll in Kroger Community Rewards®! To get started, sign up with your Plus Card, and select National Kidney Foundation or enter our ID #91085. Once you're enrolled, you'll earn rewards for NKF every time you shop and use your Plus Card!
Register your card
Find National Kidney Foundation either by name or number 91085 and save.
Donate your small discards, especially clothing, to Clothes For Kidney. A portion of all proceeds benefits the NKF. Click on the link or call 972.434.0734 for more information and to schedule a pick up. Schedule a Pick-Up
The National Kidney Foundation often takes part in area health fairs. If you are interested in having us at your next event, contact us at (877) 543-6397.