2nd Annual Honors Award Benefit
March 8, 2018
Hyatt Regency Rochester
125 East Main Street
Rochester, NY 14604
This benefit honors members of the local community who have been outstanding in the promotion of kidney health and the fight against kidney disease. The dollars raised from this event support the local National Kidney Foundation's awareness, prevention and treatment programs and efforts.
But Tickets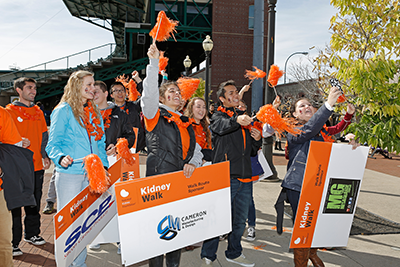 Kidney Walk is the nation's largest walk to fight kidney disease. Held in nearly 100 communities, the event raises awareness and funds lifesaving programs that educate and support patients, their families and those at risk.

Why walk?

100,000 walkers are on the move across the nation! Get in step with us as we move kidney disease, a top ten public health problem! 30 million Americans with kidney disease are counting on us, so we need all the help you can give!
KEEP Healthy - Free Kidney Health Check
The National Kidney Foundation's community-based initiative to educate about the kidneys, risk factors for kidney disease, and steps to take to keep kidneys healthy and reduce risk.
One in three Americans is at risk for developing kidney disease. KEEP Healthy will help you learn if you're the one. More Information
Now Accepting Applications for the 2018 DiMartino Scholarship
The Joseph DiMartino Scholarship Award provides (2) $500 scholarships as a one-time grant award to one graduating high school senior and one adult dialysis or kidney transplant patient who exemplifies courage, strength, determination, generosity of spirit, and kindness. Deadline is May 31st. Contact Elissa Rowley, Program Manager for more information at (585) 598.3963 ext. 373.
Your Kidneys and You Presentation
The Your Kidneys & You program is designed to raise awareness among the general public about kidneys, risk factors for kidney disease, and how to protect your kidneys. Your Kidneys and You consists of a set of 11 brief PowerPoint slides, along with scripted notes and handouts that National Kidney Foundation (NKF) employees and volunteers present to groups in their local area.
For more information click here or contact Elissa Rowley at (585) 598-3963 ext. 373.
Donate your old car, van, truck, or boat to help improve the lives of the millions of Americans affected by kidney disease. Donate now.
Are you or someone you know a dialysis patient?
Sign up for our FREE MAGAZINE, KIDNEY LIVING! Each issue features stories from people who are living well on dialysis, as well as tips for coping with kidney disease, healthy eating, finding support, and so much more.
You and your workplace or school are invited to participate in our Casual for Kidneys Day, a dress-down day held to benefit the NKF. This dress down day helps to raise awareness of chronic kidney disease & support the local kidney community. You can bring your employees together for a cause that will truly make a difference. Contact Elissa Rowley to learn more.
Community and Patient Services
The following are a few of the programs and services provided from our local NKF office to the kidney community in Upstate and Western NY.
Kidney Information and Literature - The NKF has a variety of educational brochures and materials geared toward patients in the early stages of kidney disease, dialysis patients, family supporters and those who are at risk for kidney disease. Contact us to receive this free literature or view our literature online.
Kidneys in the Classroom - A kidney health education and prevention presentation provided to elementary students. We travel to the school and teach about kidneys - the master chemists - and how to keep them healthy.
Health Fairs - Contact our office if you would like the National Kidney Foundation to participate in a community health fair or other educational event.
MedIds.com (318-397-8441) will offer a 15% discount to needy patients if the patient uses the code "NKF2012".
Medic Alert (888-633-4298) will waive the fee if the patient submits a letter from his/her doctor on the doctor's letterhead and proof of monthly income. These documents must be submitted along with the company's application form.
American Medical ID (800-363-5985) will provide the stainless steel version for free with a letter from the doctor on the doctor's letterhead. The original letter has to be mailed to the company; it cannot be a photocopy or a fax.