The National Kidney Foundation Gala is a quasi black tie with cowboy flair event, bringing together Columbia's finest in an intimate atmosphere for a sophisticated and fun filled evening. Guests enjoy signature drinks and top cuisine with live entertainment. Click Here for more info.
South Carolina is undergoing a slow recovery from the devastating floods that have inundated our state in the last week. Recovery efforts have been slow, but the incredible spirit of volunteerism and community that has been apparent has been overwhelming and has lifted our spirits and belief in the goodness of others.
The National Kidney Foundation believes in this spirit of volunteerism but also in the spirit of helping our communities and each other. After much discussion we feel that is in the best interest of our community to postpone the Orangeburg Kidney Walk to March 10, 2016 (which is World Kidney Day). The Charleston Kidney Walk will now take place on March 13, 2016 and the Midstate Golf Classic has been rescheduled to March 21, 2016.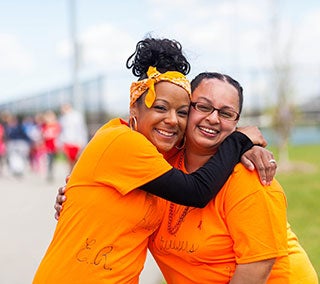 The Kidney Walk is the nation's largest walk to fight kidney disease. Held in nearly 100 communities, the event raises awareness and funds lifesaving programs that educate and support patients, their families and those at risk. Take a lifesaving step today and sign up for a walk below.
Join us at the Columbia Kidney Walk - Thursday, March 6, 2016 (New Date)
Join us at the Orangeburg Kidney Walk - Thursday, March 10, 2016 (New Date)
Join us at the Charleston Kidney Walk - Sunday, March 13, 2016
For more information contact Mary Beth King at 803.799.3870 ext 633
The NKF Golf Classic is the nation's premier amateur golf event for charity. The top 5-finishing teams (Gross and Handicap Index Divisions combined) from every local NKF Golf Classic are invited to compete in the National Finals held at the famed Pebble Beach Resorts (additional fees required).
Cobblestone Park Golf Club, Columbia, SC - March 21, 2016 (New Date)
Your Kidneys and You Free Training
Want to educate others about kidney health? Learn how to present this easy 20 minute presentation to friends, family, colleagues, churches, community centers, schools, and more!
February 10, 2016 - 12:00pm
Please register 2 weeks prior to training to Henry Well, ext (803) 799-3870 x631.
Webinar and conference call number will be emailed once registered.
KEEP Healthy - Free Kidney Health Check
The National Kidney Foundation's community-based initiative to educate about the kidneys, risk factors for kidney disease, and steps to take to keep kidneys healthy and reduce risk.
Check-up includes: risk survey, body mass index (BMI), blood pressure check, free educational materials, and opportunity to speak with a health care professional. Click here for more information.
Donate your old car, van, truck, or boat to help improve the lives of the millions of Americans affected by kidney disease. Donate now.
Kidney Clothes Collection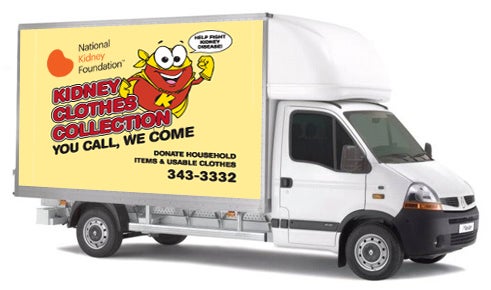 Schedule a next-day pick-up in Columbia or Charleston - 343-3332
By donating your unwanted household items and clothes, you can help fund life-saving services for kidney patients and those at risk in your community. A Kidney Clothes Collection truck will come to your home to take away your unwanted items. Please mark all boxes and furniture with a note indicating they are for the NKF, and a receipt for your generous donation will be waiting for you! Call to schedule your next-day pick-up today. Click here for more information.