The National Kidney Foundation is the leading volunteer-led, nonprofit health organization, dedicated to preventing kidney disease, improving the health and well-being of individuals and families affected by kidney disease and increasing the availability of all organs for transplantation.
Primary Care Strategies for Kidney Disease
Save the Date
Saturday January 25, 2020, 7:00am-3:30pm
Radisson Duluth-Harborview
505 W Superior St
Duluth, MN 55802
Don't miss this opportunity to earn CME/CE credits and get updates on best practices for managing patients with CKD. Agenda to follow but topics include: Pharmacotherapy, Proteinuria, Renal Imaging, and ESRD treatment options.
Contact Caitlin Grosshauser with questions.
Kidney Patient Social Summit
Sunday, March 15, 2020, 12:00pm
Be The Match
500 N. 5th Street
Minneapolis, MN 55401
Join us for a FREE educational event for patients, their family members, caregivers, and friends. Patients at all stages of CKD are welcome and lunch will be provided. Breakout sessions will cover a range of topics including nutrition, treatment options, grief and coping, and other supportive resources.
Questions? Contact: Caitlin Grosshauser, 651-635-7300 ext. 421.
Prescription Discount Card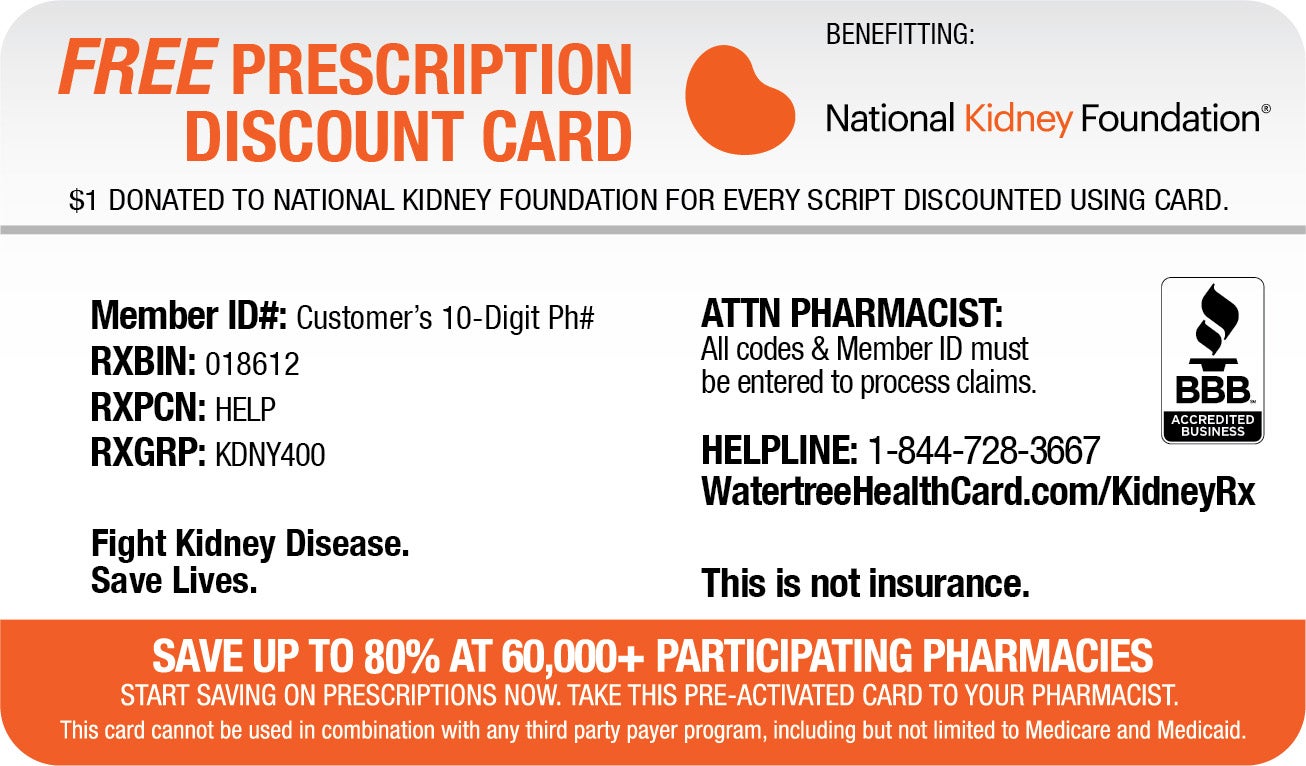 The prescription discount card program benefitting NKF will not only help build awareness of CKD, but will make prescriptions more affordable for people with this life-threatening disease. Each time someone saves money with their prescription discount card benefitting NKF, Watertree Health makes up to a $0.50 donation to the organization—at no cost to the cardholder—to help fund the mission of NKF. The card can save up to 80% on most brand name and generic medications at 60,000 pharmacies nationwide.
Do you struggle with managing your CKD diet? In addition to help from your physician and renal dietitian, a grocery store dietitian may be able to help! Coborn's Grocery Stores and Hy-Vee stores have dietitians in many store locations who have worked with NKF to develop shopping guides and grocery store tours for people with kidney disease. Contact your local grocery store dietitian to find out if they offer this service and to schedule your tour today!
Are you a retail dietitian that would like more information on the renal diet? Contact Caitlin Grosshauser (651-636-7300 x421) for more information.
Are you looking for peer support in dealing with CKD? NKF offers mentoring through our NKF PEERs program, and our new online communities for Kidney Disease, Dialysis, Living Donation and Transplant. There are also local support groups in Minnesota that are always welcoming new members.
Twin Cities Support Group
Group Meetings are on the 3rd Thursday of every month
12:30 PM – 2:00 PM
Vision Loss Resources
216 Starkey Street
St. Paul, MN 55107
Contact: Laurie Church, Facilitator
Head of Lakes Organ Transplant Support Group
Support Group meets the second TUESDAY of each month.
Miller-Dwan Medical Center
502 E 2nd Street Duluth MN
in Classrooms 2 & 3
7:00 to 9:00pm
Contact: GLENN, TOM, or LYNN
or call 218-879-5758
Caregiver Support Group
555 Park Street, Suite 210 St. Paul MN, 55103
Contact: Marsha Lindquist-Evans, MSW for meeting schedule
(651)-221-0896
To post your support group meeting information in our newsletter contact caitlin.grosshauser@kidney.org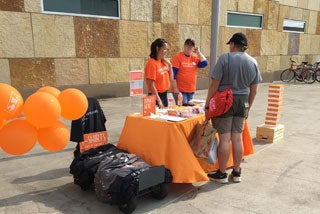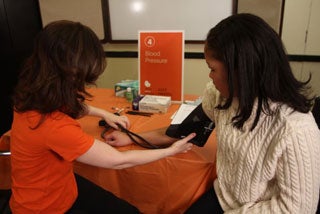 We're always looking for new volunteers to help us advance our mission. From helping out around the office, to participating on event planning committees, to helping with community outreach and kidney screenings we have an opportunity for you! Contact Carly Hodes (651-636-7300 x423) to learn more about our volunteer opportunities or check out our Volunteer Match page for upcoming opportunities.
Have you checked out our blog yet. Each month we share stories of people in Minnesota and their connection to kidney disease. www.kidneystoriesmn.org
Get help navigating the challenges of kidney disease, organ donation and transplantation.
Toll–free 1.855.NKF.CARES (1.855.653.2273) nkfcares@kidney.org