2018 Bay Area Kidney Walks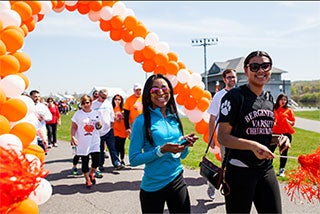 Register now for the 2018 Kidney Walk Season!!
Silicon Valley Kidney Walk – Cityview Plaza, Downtown San Jose - Sunday, June 3rd
East Bay Kidney Walk – Bishop Ranch, San Ramon - Sunday, June 3rd
San Francisco Kidney Walk – Downtown San Francisco - Sunday, June 10th
The Kidney Walk is the nation's largest walk to fight kidney disease. Held in nearly 100 communities, the event raises awareness and funds lifesaving programs that educate and support patients, their families and those at risk.
Interested in being a Kidney Walk Sponsor, CLICK HERE.
49th Annual Medical Symposium & Primary Care Workshop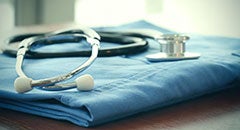 Friday, October 13, 2017
8:00am – 4:30pm | 49th Annual Medical Symposium More
8:00am – 12:00pm | Primary Care Workshop More
Crowne Plaza Hotel
1221 Chess Drive
Foster City, CA 94404
Celebrating its 49th year, the NKF Medical Symposium is a well-established and valued tradition in the Bay Area medical community. It provides the local kidney healthcare community with current, state-of-the-art scientific information on prevention, diagnosis and treatment of chronic kidney disease (CKD) in order to improve the care of individuals with CKD and those at risk for developing it. Featuring presentations by experts in the field, the Medical Symposium provides a unique opportunity for nephrology professionals to come together to hear well-respected national speakers present on controversial and thought-provoking topics, as well as the latest research findings. Speakers include: Joanne Bargman, MD, Vanessa Grubbs, MD, Jonathon Hogan, MD, Mark Unruh, MD, Mary Leonard, MD and more! Topics include PD, End of Life & Palliative Care, AKI, Ethics and Transplantation, and the Basics of Immunosuppression with Glomerular Diseases, just to name a few.
In order to further expand our mission towards the awareness, prevention, and treatment of kidney disease NKF is adding a Primary Care Workshop for medical professionals in the primary care space. We will provide primary care practitioners with the tools and knowledge they need to improve chronic kidney disease (CKD) and overall health outcomes, improve patients' quality of life, and have an impact on CKD healthcare spending nationwide.
Please contact Celine Koh at (888) 427-5653 or email celine.koh@kidney.org with any questions.
30th Anniversary Authors Luncheon
Saturday, November 4, 2018
San Francisco Marriott Marquis
The National Kidney Foundation's 29th Annual Authors Event is the largest literary event of its kind in the Bay Area. The Authors Luncheon welcomes nearly 1,000 guests annually from San Francisco's leading social, corporate, medical, and literary circles to celebrate a group of renowned, bestselling authors and their captivating stories. Attendees have the opportunity to meet each author during book signing sessions.
Sponsorships & Table Sales available at www.AuthorsLuncheonSF.org or by clicking here.
Special thanks to our Literary Partner Book Passage - the Bay Area's Liveliest Bookstore!
KEEP Healthy - Free Kidney Health Check
The National Kidney Foundation's community-based initiative to educate about the kidneys, risk factors for kidney disease, and steps to take to keep kidneys healthy and reduce risk.
Check-up includes: risk survey, body mass index (BMI), blood pressure check, free educational materials, and opportunity to speak with a health care professional. Click here for more information.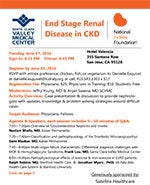 The SCVMC NKF Quarterly Nephrology Journal Club provides nephrologists with updates, knowledge & problem-solving strategies around difficult cases & disease states in CKD so that they may better treat patients.
Interested in Kidney Health Presentations?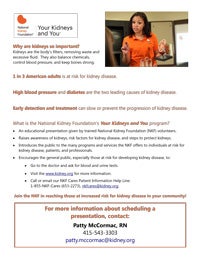 Make a difference by spreading awareness about kidneys and kidney disease in your local community. The National Kidney Foundation's Your Kidneys & You program is a basic and easy-to-present program addressing the #1 goal of NKF's strategic plan: to increase awareness of the kidneys and kidney health among the 73 million American adults who are at risk for kidney disease.
Your Kidneys & You consists of a 30 minute presentation with accompanying educational handouts. A trained NKF volunteer will come and present to your community group, church or religious service, or office gathering – large or small. Learn more or schedule a presentation by contacting our office.