Appropriate for
Diets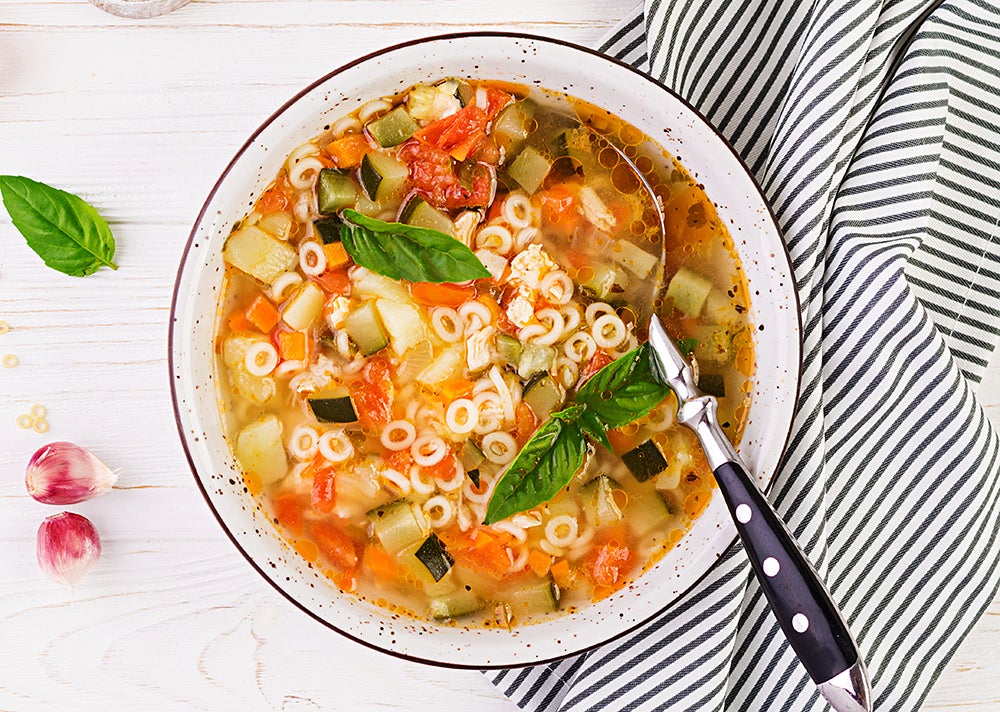 Ingredients
14-ounce

Diced Tomatoes, No Salt Added

1½

cup elbow shaped Macaroni, dry

4

cup Chicken Broth, Low Fat, Low Sodium

1

tsp, ground Black Pepper

1

tsp, leaves Oregano - Dried

1

tsp, leaves Basil - Dried

½

cup, chopped Zucchini

1

large Carrots

2

large Celery stalk

2

cloves Garlic

½

large Onion

2

tablespoon Olive Oil

1

can Green Snap Beans, no salt added
Directions
Dice Onion, garlic, and zucchini. Shred the carrot. Rinse the canned green beans or use 1 ½ cups fresh beans cut into ½ inch pieces.

Heat olive oil in a large pot or Dutch oven on medium heat. Add onions and cook 2-3 minutes until translucent.

Add garlic, celery, carrot, and zucchini. (add green beans if using fresh). Cook about 5 minutes until the vegetables soften.

Add canned green beans, basil, oregano, and black pepper.

Add 1 can diced no salt tomatoes and chicken broth.

Bring to a boil then reduce to simmer. Simmer for 10 minutes.

Add pasta and cook for 8-10 minutes or according to package directions.

Garnish with a sprig of fresh basil. Ladle into a bowl and enjoy!
Give hope, fight kidney disease with your holiday gift.
Your heartfelt gift helps us provide FREE resources, support, and hope for thousands of patients, loved ones and healthcare heroes.
Meal types
Nutritional information
Calories 144

Carbohydrates 21.9 g

Dietary Fiber 2.8 g

Protein 5.9 g

Fat 4.3 g

Saturated Fat 0.7 g

Sodium 55.1 mg

Potassium 355.2 mg

Calcium 51.3 mg

Phosphorus 97.8 mg