What is Kidney Cancer? - (Available in Spanish)
Who is at Risk? - (Available in Spanish)
How is Kidney Cancer Found? - (Available In Spanish)
Treatments for Kidney Cancer - (Available In Spanish)
Talking with Your Healthcare Professional - (Available In Spanish)
Click Here To Read NKF's Patient Brochure on Kidney Cancer - (Available In Spanish)
Kidney Cancer Infographic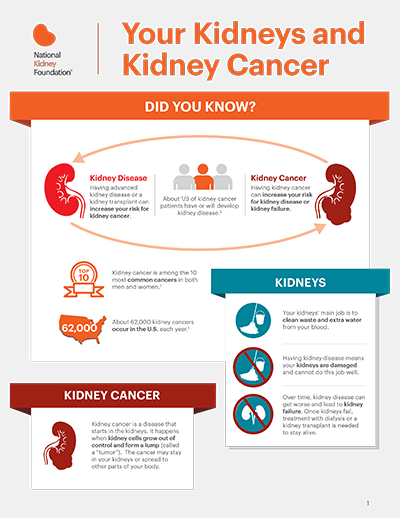 English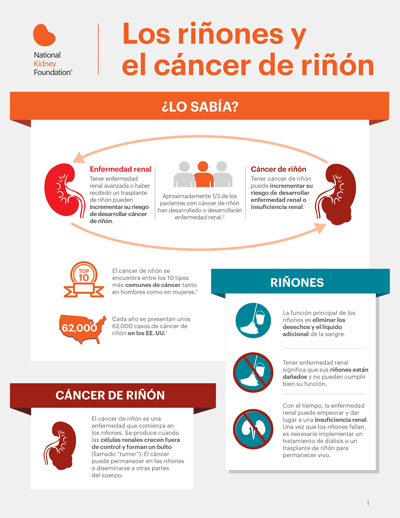 Spanish
NKF Facebook Live — Kidney Cancer
This edition of NKF Facebook Live focuses on the subject of Kidney Cancer. It includes a conversation between a healthcare professional and kidney cancer survivor as they talk about what kidney cancer is, it's affects, treatment options and what people should know.
Immunotherapy in Treating Kidney Cancer
This edition of NKF Facebook Live focusses on Kidney Cancer and specifically, a treatment option called immunotherapy.

A kidney cancer doctor will help make sense of this difficult subject. You'll also hear some inspiring words from a kidney cancer patient as he shares his experience from the first diagnosis to treatment options and the importance of support.
The information shared on our websites is information developed solely from internal experts on the subject matter, including medical advisory boards, who have developed guidelines for our patient content. This material does not constitute medical advice. It is intended for informational purposes only. No one associated with the National Kidney Foundation will answer medical questions via e-mail. Please consult a physician for specific treatment recommendations.