Green Beans and Mushroom Gravy
Appropriate for
Diets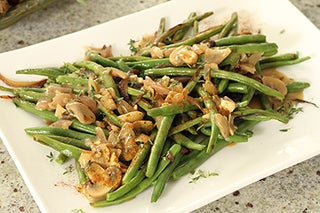 Ingredients
-

Handful dried shiitake mushrooms

3

tbsp. olive oil

¾

large red onion, half of it diced and half of it sliced

4

cloves garlic, minced

¼

cup sherry vinegar (unseasoned, very low sodium)

1½

cups white button mushrooms, sliced

1

tbsp. all-purpose flour

1

lb (16 oz) green beans, washed, ends cut off, and cut in half

¼

tsp. freshly ground black pepper

¼

cup light whipping cream

1

teaspoon fresh thyme (or tarragon or parsley), finely chopped

¼

tsp. smoked paprika
Directions
Place the dried shiitake mushrooms and 4 cups of water in a medium pot over high heat.
Cover with a lid and bring it to a boil.
Let it boil and bubble for 5 minutes and then reduce heat to low and continue cooking with the lid still on, about 20 minutes.
This is your mushroom broth.
Meal types
Nutritional information
Calories 190

Carbohydrates 24.4 g

Dietary Fiber 5 g

Protein 4.2 g

Fat 10.3 g

Saturated Fat 3 g

Sodium 13.1 mg

Potassium 557.5 mg

Calcium 47.1 mg

Phosphorus 112.2 mg