Drinking Alcohol Affects Your Kidneys
August 12, 2014, 10:06am EDT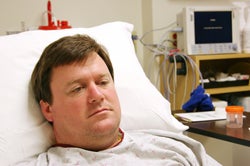 Drinking alcohol affects many parts of your body, including your kidneys. A little alcohol—one or two drinks now and then—usually has no serious effects. However, excessive drinking–more than four drinks daily—can affect your health and worsen kidney disease. When experts talk about one drink, they are talking about one 12–ounce bottle of beer, one glass of wine, or one ounce (one shot) of "hard liquor."
The Centers for Disease Control estimates that most American adults (two out of three) drink alcohol. Too often, some of these regular drinkers have more than five drinks at one time. In fact, about a quarter of drinkers reported they had done this on at least one day in the past year. "Binge" drinking has harmful effects on the kidney that can even lead to acute kidney failure. A sudden drop in kidney function is called acute kidney failure. This often goes away after a time, but it can occasionally lead to lasting kidney damage.
Even without binge drinking, regularly drinking too much too often can also damage the kidneys. The damage occurs more slowly. Regular heavy drinking has been found to double the risk chronic kidney disease, which does not go away over time. Even higher risk of kidney problems has been found for heavy drinkers who also smoke. Smokers who are heavy drinkers have about five times the chance of developing CKD than people who don't smoke or drink alcohol to excess.
Some people should not drink at all. Check with your doctor, especially if you take medications that might be affected by using alcohol. Women, older people, and those with smaller bodies should be especially careful. Of course, pregnant women are advised not to drink alcohol.
The kidneys have an important job as a filter for harmful substances. One of these substances is alcohol. The kidneys of heavy drinkers have to work harder. Alcohol causes changes in the function of the kidneys and makes them less able to filter the blood. Alcohol also affects the ability to regulate fluid and electrolytes in the body. When alcohol dehydrates (dries out) the body, the drying effect can affect the normal function of cells and organs, including the kidneys. In addition, alcohol can disrupt hormones that affect kidney function.
Too much alcohol can also affect your blood pressure. People who drink too much are more likely to have high blood pressure. And medications for high blood pressure can be affected by alcohol. High blood pressure is a common cause of kidney disease. More than two drinks a day can increase your chance of developing high blood pressure. Drinking alcohol in these amounts is a risk factor for developing a sign of kidney disease, protein in the urine (albuminuria). The good news is that you can prevent this by not drinking too much alcohol.
By promoting liver disease, chronic drinking adds to the kidney's job. The rate of blood flow to the kidneys is usually kept at a certain level, so that the kidney can filter the blood well. Established liver disease impairs this important balancing act. In fact, most patients in the United States diagnosed with both liver disease and associated kidney dysfunction are alcohol dependent.
Always check with your doctor to make sure it is safe for you to drink alcohol. Even if it is safe, it is important to drink in moderation. A good guideline is: no more than one to two drinks a day for men and one drink a day for women and elderly.