Appropriate for
Diets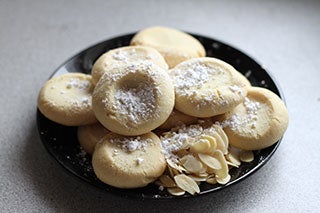 Ingredients
1

cup margarine, softened

1

cup sugar

1

egg

3

cups flour

1

teaspoon baking soda

1

teaspoon almond extract
Directions
In a medium mixing bowl, cream margarine and sugar.
Add egg and beat well.
Sift dry ingredients and add to creamed mixture.
Add almond extract and mix well.
Roll into balls about 3/4 inch in diameter.
Press a small hole in the middle of each cookie.
Bake at 400°F for 10 to 12 minutes, until cookies are golden brown around edges.
Meal types
Nutritional information
Calories 153

Carbohydrates 19.2 g

Dietary Fiber 1.6 g

Added Sugar 8.3 g

Protein 2.2 g

Fat 8 g

Saturated Fat 1.5 g

Sodium 117 mg

Potassium 59 mg

Calcium 6 mg

Phosphorus 57 mg