Appropriate for
Diets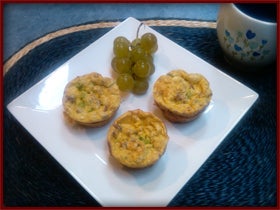 Ingredients
8

eggs

⅓

cup rice milk

1

tablespoon chopped chives

⅓

cup chopped green peppers

¾

teaspoon Dijon mustard

¼

teaspoon ground sage

4

vegetarian sausage patties, browned, cooled and diced

-

Vegetable Oil Spray
Directions
Pre-heat oven to 350 F

In a large bowl, beat eggs. Add chives, green pepper, Dijon mustard, ground sage. Stir in vegetarian sausage and rice milk.

Spoon by 1/3 cupful into greased muffin cups. Bake until a knife inserted in the center comes out clean, 20-25 minutes.
​Freeze option:
Cool baked egg muffins.

Cover and place on waxed paper-lined baking sheets and freeze until firm.

Transfer to freezer container and place in freezer.

To use, place in greased muffin pan, cover loosely with foil and reheat in a preheated 350° oven until heated through. Or, microwave each muffin on high 30-60 seconds or until heated through.
Meal types
Nutritional information
Calories 79

Carbohydrates 2.3 g

Dietary Fiber 0.1 g

Protein 5.6 g

Fat 5.2 g

Saturated Fat 1.4 g

Sodium 152 mg

Potassium 90 mg

Calcium 32 mg

Phosphorus 77 mg