Appropriate for
Diets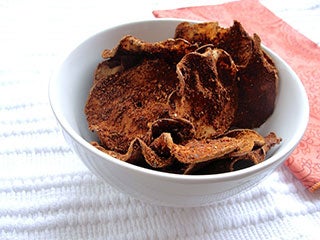 Ingredients
1

apple (Granny Smith, Golden Delicious, or Fuji)

-

Parchment paper

1

tbsp smoked paprika

2

tsp chili powder

2

tsp cumin

1

tsp salt-free onion powder

1

tsp salt-free garlic powder

1

tsp brown sugar

1

tsp freshly cracked black pepper

¼

tsp mustard powder
Directions
Preheat oven to 225 degrees F.
Core your apple and then, using a mandoline, cut it into 1/8-inch slices. Time-saver tip: If you don't want to core the apple, you can pull out the seeds with your fingers after slicing. And if you don't have a mandoline, you can make thin slices with your knife.
Next, cover two 9x11-inch baking sheets with parchment paper and set aside.
In a small bowl, mix the spice ingredients together.
Place a few apple slices on a large plate and rub the spice mix on both sides.
Set slices in a single layer on the parchment-lined baking sheet.
Continue until all the apple slices are spiced and placed on the sheet. Place the apples in the oven and bake for one hour. Flip the slices over and bake for another hour.
Then, turn the oven off but leave the apples inside to cool - this is when they get nice and crispy.
Serve and enjoy immediately or keep in an airtight container for a few days.
Meal types
Nutritional information
Calories 52

Carbohydrates 12.3 g

Dietary Fiber 2.8 g

Protein 1 g

Fat 0.8 g

Saturated Fat 0.1 g

Sodium 43 mg

Potassium 167.4 mg

Calcium 27.6 mg

Phosphorus 27.4 mg