Appropriate for
Diets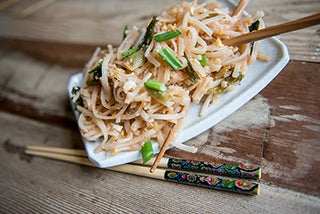 Ingredients
1

pound rice noodles (look for a low-sodium variety)

¼

cup vegetable oil

1

cup cooked chicken, sliced

1

Tablespoon minced garlic

4

green onions, sliced on the diagonal

1

chili pepper, diced

1

egg

⅔

cup Pad Thai Sauce

1

lime

⅛

cup cilantro, chopped
Directions
Soak rice noodles for approximately 40 minutes.
Cook chicken. Then, slice.
Mix ingredients for Pad Thai Sauce.
Sautee garlic, pepper, and half of green onions in ¼ cup vegetable oil.
Add noodles. Toss to coat.
Add egg; cook thoroughly.
Add Pad Thai Sauce. Toss to coat.
Add remainder of juice from lime and top with cilantro. Enjoy!
Meal types
Nutritional information
Calories 219

Carbohydrates 23 g

Dietary Fiber 1.4 g

Protein 12 g

Fat 9 g

Saturated Fat 1.7 g

Sodium 373mg

Potassium 159 mg

Calcium 23 mg

Phosphorus 102 mg