Appropriate for
Diets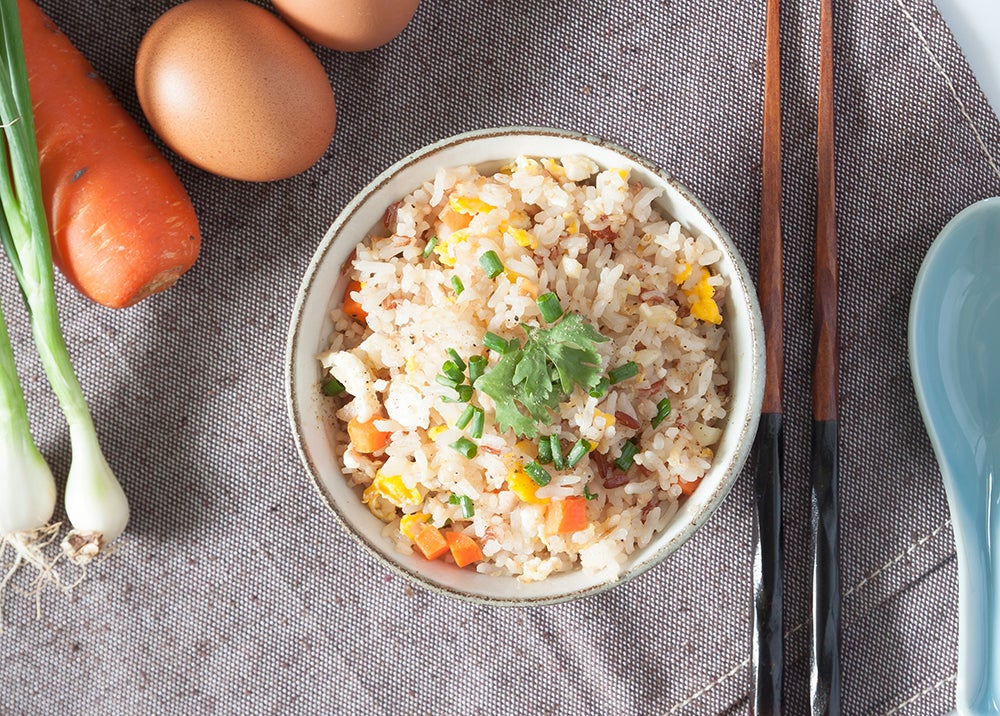 Ingredients
1

tablespoon raw ginger root, minced

4

medium spring onions or scallions

¼

tsp ground black pepper

¼

cup chopped onion

⅓

cup chopped carrots

½

cup chopped red bell pepper

1

large whole egg

¼

cup peas, frozen

¼

cup cilantro, fresh

⅓

cup sweet yellow corn kernels, fresh or frozen

4

cup white rice

¼

teaspoon red pepper flakes

2

tablespoon canola oil

1

tablespoon garlic

1

tablespoon soy sauce, lite
Directions
Prepare rice according to package directions to make 4 cups. When cooked, heat oil in a large saute pan or wok.
Add diced carrots, minced garlic, minced ginger, onion, and red pepper flakes. Cook approximately 1 minute.
Add bell pepper, corn, and peas. Cook for approximately 1 minute.
Add rice, pepper, and soy sauce. Cook for approximately 2 minutes.
Add scrambled egg and cook eggs thoroughly.
Toss in sliced scallions and cilantro.
Reserve some scallions and cilantro for garnish.
Meal types
Nutritional information
Calories 109

Carbohydrates 17.9 g

Dietary Fiber 1 g

Protein 2.4 g

Fat 3.1 g

Saturated Fat 0.3 g

Sodium 61.4 mg

Potassium 73.3 mg

Calcium 14.2 mg

Phosphorus 42.4 mg