1 slice of cake per serving
Appropriate for
Diets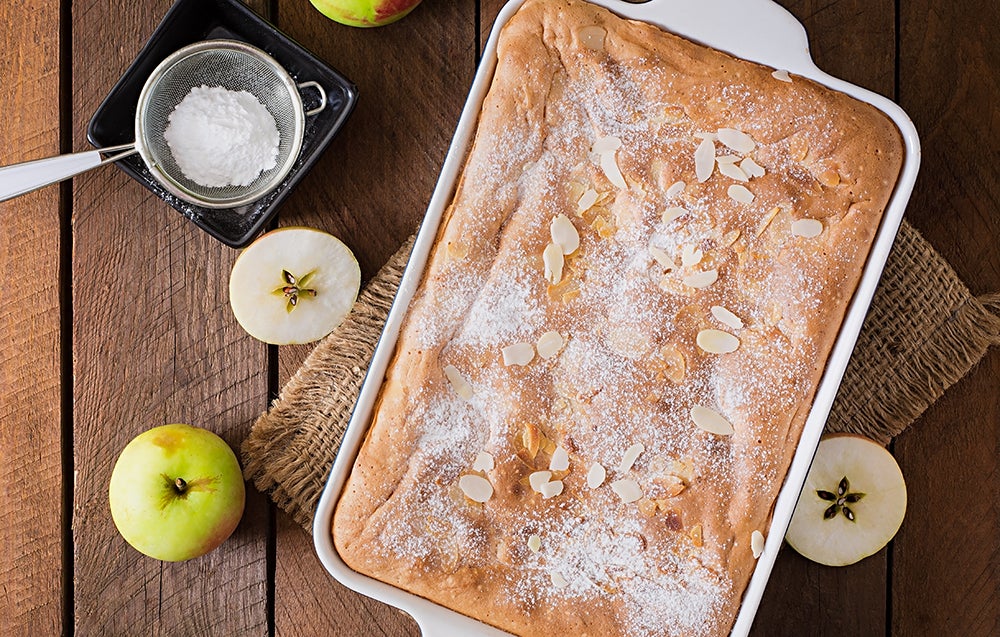 Ingredients
3

Granny Smith Apples, peeled, cored & sliced

1

yellow sugar-free cake mix

3

egg whites

½

cup water

⅓

cup oil

1

teaspoon ground nutmeg

1

teaspoon ground ginger

1

teaspoon ground cinnamon

½

teaspoon ground cloves

3

tablespoons maple sugar
Directions
Microwave apple slices until soft, about 5 minutes on high.
Pre-heat the oven to 350.
Let the apple cool, while you mix the cake batter.
In a mixing bowl, add the cake mix, spices, egg whites, water and oil; follow the mixing direction on the box.
Mix in the apples.
Pour the batter into a non-stick 9 X 13 cake pan.
Bake until the cake is done (a tooth pick comes out clean), 35 to 45 minutes. (Remember, there is very little sugar in this batter, so the cake doesn't brown.)
Let cool to room temperature.
Sprinkle the top of the cake with maple sugar.
Meal types
Nutritional information
Calories 134

Carbohydrates 22.5 g

Dietary Fiber 1 g

Protein 1.6 g

Fat 4.3 g

Saturated Fat 0.7 g

Sodium 139.6 mg

Potassium 51.4 mg

Calcium 38 mg

Phosphorus 74.4 mg